Christmas Alcohol tips!
Holidays bring with them parties and gatherings, along with more opportunities than usual to drink alcohol with family and friends. Here are some tips to see you through the festive season with your health intact.
The National Health and Medical Research Council recommends a maximum of 4 standard drinks per day for men, and 2 for women. It also recommends having at least 2 alcohol-free days in a week. A standard drink contains approximately 10 grams of alcohol e.g. a 100 mL glass of table wine; a 60 mL glass of fortified wine; a middy of regular beer; or 30 mL of spirits.
Avoid topping drinks up: you may lose count of how many you have had. Try to alternate water or a non-alcoholic alternative with your alcoholic drinks, or try a non-alcoholic cocktail for a refreshing change.

Learn how to say no and encourage your friends to be supportive. Nominate yourself as the designated driver if you wish to avoid alcohol.

Remember that some beverages will contain more than one standard drink: take this into account when calculating your intake for the evening, particularly if you are driving.

Try to eat a substantial meal to increase your tolerance if you are planning on drinking. Salty party snack foods will encourage you to drink more quickly to avoid dehydration.

The Federal Office of Road Safety recommends you test yourself on a breath test machine approved by Standards Australia if you intend to drive after drinking. The national legal limit for blood alcohol concentration when driving is 0.05.

Remember that you may still be over the limit the next morning after a large drinking session.

Women should be aware that drinking the same number of drinks as a male counterpart can produce a higher blood alcohol reading in a woman because women generally have proportionately more fat and less body water than men. The contraceptive pill can also make women more affected by alcohol.
If you are having problems saying no to alcohol, talk to your health practitioner for support.
Add some "Harmony" in your life, and save money - naturally!
Click Here to find out more

Give the gift of health and beauty this Christmas : Hundreds of great gift Ideas!
Haven't found that 'Perfect Gift' yet?
You will find over 700 Gift Voucher ideas for your family, friends and partners at www.myhealthspecials.com.au Indulge them in a day spa, massage or even invest in a gym membership. Simply click on one of our 80 categories, locate a business in your desired area and print off your money saving voucher. We guarantee you will save your hard earned dollars on all your Christmas shopping - and by giving the gift of health you will add to the quality of life of your friends and family.
santa goes here
Health Buzz: The latest news on all things good for you!

Brought to you by www.mindandbody.com.au
What Music Can Do for You
Clinical studies and anecdotal evidence from music therapists suggest that the sound of music... manages pain improves mood and mobility of people with Parkinson's disease reduces the need for sedatives and pain relievers during and after surgery decreases nausea during chemotherapy helps patients participate in medical treatment that shortens hospital stays relieves anxiety lowers blood pressure eases depression enhances concentration and creativity.
The Line on Wine
"Can I count a glass of wine toward my nine daily servings of fruits and vegetables?" Boy, do we wish we could say yes! Unfortunately, wine lacks the vitamins, minerals, and fiber that earn fruit and veggies their reputations for fighting heart attack, stroke, and cancer. On the other hand, wine has antioxidants that may explain why a daily glass for women (one or two for men) appears to help fend off heart disease. We suggest you count a glass of wine as your "10th serving" of the day.
Brought to you by www.mindandbody.com.au
Short and Sweet:Florentine Slices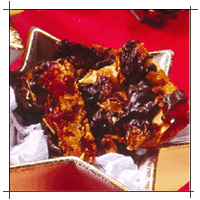 Ingredients :
2 1/2 cups cornflakes, crushed 1/3 cup sultanas 1/3 cup flaked almonds 1/2 cup glace cherries, chopped 1/3 cup glace pineapple 1/4 cup coconut 2 tablespoons mixed peel 100g Australian Butter, melted 1/2 cup Australian Sweetened Condensed Milk 150g dark chocolate, melted
Method : Combine cornflakes, sultanas, almonds, cherries, pineapple, coconut and peel, until well mixed. Stir in butter and condensed milk, mixing lightly. Press evenly into a buttered and lined lamington tin and bake at 180° C for 25 minutes. Cool and drizzle with chocolate. Refrigerate before cutting into squares.
Nutritional Analysis per serve Serves : Carbohydrates : 23 g Energy : 623 kJ Calcium : 41 mg Protein : 2 g Iron : mg Fat : 6 g
Laughter is the best medicine!

Reasons Santa Can't Be a Man
Men can't pack a bag.
Men wouldn't be caught dead wearing red velvet.
Men would feel their masculinity is threatened... having to be seen with all those elves.
Men don't answer their mail.
Men would refuse to allow their physique to be described, even in jest, as anything remotely resembling a "bowlful of jelly
Men aren't interested in stockings unless somebody's wearing them.
Having to do the "Ho, Ho, Ho," thing would seriously inhibit their ability to pick up women.
Quote of the month!

At Christmas I no more desire a rose Than wish a snow in May's new-fangled mirth; But like of each thing that in season grows.
William Shakespeare (1564 - 1616), Love's Labour Lost
Win a Golden Door Decadence Spa Package valued at $400.
From the 23rd of December for 8 weeks we will be running a fantastic giveaway which includes 5 hours of pampering with a Golden Door Decadence Spa Package valued at $400. This package provides you with the ultimate Spa experience. A salt glow body treatment followed by an aromatic soak in your private bath, and a relaxing swedish massage to get you started. Follow this with a pure facial, a hand spa and pedi spa to treat neglected feet and hands. Indulge yourself and truly recharge your face and body. This package includes healthy light refreshments, fresh fruit and herbal teas.
THE 'HEALTHY LIFE' GIVEAWAY RUNS TILL SUNDAY THE 22ND- GOOD LUCK!
Don't forget that all subscribers to Naturally Happy are automatically included in all our giveaways- GOOD LUCK!
Click here for more details.
In the next issue of "Naturally Happy"
My Health Specials provides this information for your personal education and enrichment. Information provided should not be used for diagnosing or treating a health problem or disease. Nor should the information replace the advice of your health care practitioner. Always seek professional advice if suffering an illness.