Powerful Benefits of Negative Ions: with SaltCrystal Lamps!
saltcrystal lamp [soltkrist'l lamp] noun also known as salt lamp or saltlamp.

Beautiful, millions of years old, salt rock crystal, known for its ability to ionise the air, thus enhancing your well being and improving your health. Nature's own air ionisers and purifiers. A special type of rock crystal and an ideal and unique gift!

Our well being and our efficiency are considerably dependent on the quality of the air we breath. Air consists of many electrically charged particles -- positively, negatively charged or neutral particles.

Many people are aware of the benefits of negative ions on our health. Negative ions are essential for our health and well being. The freshness of the air after a thunderstorm, on a mountain top, or by the seaside, are due to the high concentration of negative ions in the air. On the other hand, the reduced well being one feels in highly polluted areas, artificially air conditioned offices, or when certain hot dry wind conditions exist, are usually due to an unduly low negative ion balance (and therefore high proportion of positive ions).

Salt crystal lamps are known to improve the quality of the air by producing negative ions which are good for our health.

Use the lamps in your office, by your bedside, in your meditation room, in the baby's room, as a night light in the hallway and just anywhere you want to create a clean serene environment.

A series of scientific studies show that salt crystal lamps can increase the negative ion count by up to 300%. In nature Negative Ions are created by means of wind, sunlight, surf, waterfalls and rainstorms. Generally, a negative ion is an electronically charged molecule made up of oxygen. A positive ion in the air is a molecule that has lost its electrons through process of air pollution. In fresh country air we find up to 4000 negative ions per cubic centimetre - the size of a sugar cube. Near strong surf or close to a waterfall up to 10.000 negative ions can be found, however the number of negative ions in major capital cities at rush hour does not even reach 100. The impact of negative ions is powerful. Originally, it was found to speed recovery in burn or asthma patients, but was later discovered to affect serotonin levels in the bloodstream, stabilize alpha rhythms and to positively impact our reactions to sensory stimuli. The greater level of alertness can translate into improved learning, improved well being and enhanced human performance on mental tasks.

Ionised air also substantially reduces the number of airborne bacteria indoors. Dr. Albert P. Krueger, a microbiologist and experimental pathologist at the University of California, found that an astonishing small quantity of negative ions could kill bacteria and quickly take them out of the air so they were less likely to infect people.

Even though they are not a "medical device", Salt Crystal Lamps, by emitting negative ions, significantly reduce a myriad of indoor air pollutants. Negative ions have known benefits, and may provide relief from sinus, migraine headaches allergies and hay fever, reduce the severity of asthma attacks, enhance the immune system, increase alertness, increase work productivity and concentration, increase lung capacity and reduce susceptibility to colds and flu.

INTRODUCTORY OFFERS
Free travel-sized organic lemon myrtle mist spray with every electric lamp purchase!
50% off Lemon Myrtle mist spray when you purchase Lemon Myrtle luxurious hand & body lotion
2 Skin Treatment Saltbars for $25 (normally $15 each)
2 lemon myrtle soaps for $10!
clickhere here and please fill out the contact form on the web page.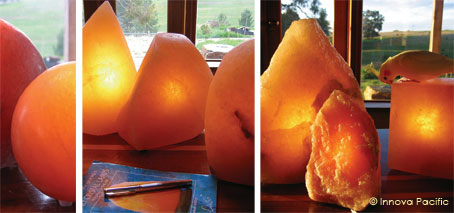 Meditate to Beat Stress: the 21st Century Way!

The benefits of meditation have been known for thousands of years and have recently been validated in scientific studies. Unfortunately, many people find it difficult to meditate and give up without receiving these benefits. This problem has now been solved with the release of a powerful audio technology called Holosync that sends a very specific stimulus to the brain and creates states of deep meditation, quickly and easily.

Stimulating the brain with Holosync releases stress-reducing chemicals that are highly pleasurable. Most people go easily into a deep, trance-like meditative state normally only attained by experienced monks who have been meditating for over 20 years. In fact, EEG studies show the brain patterns experienced are actually deeper than those attained by monks.

As new neural pathways connect and synchronise the two sides of the brain, individuals develop what scientists call "whole brain functioning," which improves learning, intuition, mental clarity, creativity, concentration, and intelligence, as well as amazing quantum leaps in insight and self-awareness.

Holosync also increases your ability to deal with stress and releases emotions such as anger, fear, sadness and anxiety. When Holosync is used regularly over time, many people discover that dysfunctional feelings and behaviours fall away - even those that have stubbornly resisted change in the past.


INTRODUCTORY OFFER
For more details and a FREE report and demo audio CD, valued at $37, call Freecall 1800 70 70 47 (24hrs, 7 days)

clickhere here for details.

Give the Gift of Health and Beauty: with these Great Ideas!
Every week leading up to Xmas we will be featuring 8 businesses that have great Gift Ideas. Each business also has a great special that will add even more value to your gift.
To contact a business please click the business link and fill out the contact form on their web page.
Gift Vouchers also available!
Day Spas
Le Mirage - Brisbane City and Sunnybank.
Stephanies Natural Beauty and Day Spa - Bulimba and City
Body Essence Day Spa for Men & Women - Kedron
Massage Therapy
Urban Retreat Massage & Day Spa - Paddington
Urban Retreat Massage & Day Spa - Hawthorne
Natural Made Products
Hand Made Naturals - Highgate Hill
Electronic Health Products
Fitness Equipment
Intestinal Parasites Causing ill Health: with Craig Hitchens ND!
Intestinal parasites or worms are very common and are often overlooked as the reason for ill health or poor emotional states.

Kids are at prime risk of contracting these little fellas and this is because once and infestation occurs in one child at a school, the rest will follow. Kids generally are not so aware of their personal hygiene so this puts them at risk of contracting these parasites more so than others. There are some very good over the counter remedies for this and I have used them myself but sometimes they are not suitable for one reason or another so I have listed below an outline for the treatment of worms naturopathically. As always this is only a basic guideline and should not replace professional advice or procedures. If the problems persist after this you should not hesitate in seeking out further advice or treatments.

WORMS - Intestinal Parasites

SYMPTOMS-
Allergies, diarrhoea, constipation, gas and bloating, appetite loss, weight loss, anaemia, nervousness, sleep disturbances, irritable bowels, anal itching, chronic fatigue, picking at the nose, dry cough, teeth grinding, and the appearance of worms in the toilet. Worms sometimes causes spasms or convulsions.
CAUSES-
Worms live in the gastrointestinal tract or burrow from that tract into the muscles. There are several types of parasitic worms which can live in human intestines, including tapeworms, hookworms, pinworms, whipworms, and roundworms. The degree of infestation is determined, upon examination, by the type, size, and number of worms found. Worms tend to eat your food! They irritate your intestinal lining, and reduce even more the amount of nutrients which are absorbed into your bloodstream. The worms also produce toxic waste which is harmful to your body. Causes include eating raw or poorly cooked meat; eating vegetation, polluted by contaminated water; improper disposal of animal and human waste; and walking barefoot on soil. Scratching the anus will transfer worm eggs on your fingers to anything else you touch.

Pinworms: Very tiny white worms, which cause rectal itching at night. Contracted by eating raw or poorly cooked vegetables which have contacted contaminated water. Scratching the anal area can also transmit them on the finger.
Tapeworms: Flat worms contracted from eating poorly cooked meat (beef, pork, and fish). The most common one (beef tapeworm) can grow to 20 feet in length in the human intestine.
Hookworms: Found in southern soil and sand, they enter by boring into the feet, but can also enter when eating with unwashed hands.
Roundworms: Most common in children, they bore through the intestinal wall and settle in other organs.
Because of the warmth of the bed, worms tend to come out of the anus. So inspect that area on children after they are asleep.
Worm infestation can lead to arthritis, colitis, fatigue, diabetes, headaches, indigestion, lupus, nausea, sinus trouble, back and neck pain, and cancer.


TREATMENT-
Here are suggestions for purging worms from the body:
o Aloe Vera, taken in any form, is especially helpful in eliminating worms.
o The following herbs help expel worms: cascara sagrada, wormwood, echinacea, goldenseal, burdock, and black walnut. Do not use wormwood during pregnancy.
o Grapefruit tea extract helps destroy parasites. Eat black walnut extract, pumpkin seeds, fig juice or figs, and chaparral tea or tablets.
o Take diatomaceous earth capsules for 3 weeks, to get rid of your worms. (Do not imagine you do not have some; everyone generally does.) The worm eats this, and it causes them to disintegrate.
o Clean the colon with enemas and colonics. Take 2 per week for 4 weeks.
o A hot water enema, with 3 teaspoons of salt to a quart of water, may get rid of pinworms.
o Eat a diet high in fiber, primarily from raw vegetables and whole grains.
o For a time, avoid all sugar foods, including fruits, with the exception of figs and pineapples.
o Eat figs and pumpkin seeds. This can be combined with black walnuts.
o Eat garlic, onions, cabbage, and carrots. They contain natural sulphur which helps expel worms. As you might expect, worms do not like garlic.
o Make sure you are obtaining enough water. Drink only pure water (distilled).
o To eliminate pinworms: Eat 1-2 bitter melons each day for 7-10 days. It is available in Asian markets.
o To eliminate tapeworms: Fast 3 days on raw pineapple. The bromelain in it destroys those worms.
o Drink one cup of wormwood tea three times daily between meals.
o Cut up two raw onions and soak those 12 hours in 1 pint water; strain while squeezing out the juice. Drink a cup of this 3 times a day. Along with this, use garlic enemas.
o Powdered tansy, balmony, bitterroot, and wormwood can be put in capsules. Take two capsules 4 times a day.
o For children, crush garlic in milk and drink it throughout the day. Use a garlic enema every morning.
o For children, make senna tea, strain it, add enough raisins to soak up the tea. Give the children a teaspoon of raisins 2-5 times a day. Use garlic enemas, and put a garlic clove up the rectum before bedtime.

Here are other precautionary measures which should be taken:
o Eat a nourishing diet, rich in vitamins and minerals. You need all the good nourishment you can get. The worms are robbing you of so much.
o Make sure your children, if they have worms, are getting adequate nutrition.
o Do not eat sugar and junk food.
o Never eat watercress. It grows in streams, many of which are now polluted. Watercress, which is eaten raw as a salad, can have pinworms and tapeworms on it.
o Do not eat raw or partly cooked fish, beef, or pork.
o Wash vegetables thoroughly before eating them raw.
o Wash all underclothing, bed clothes, and sheets frequently in hot water.
o Have all family members wash their hands frequently, especially after using the toilet, before meals, and bedtime. Do not bite nails.
o Clean rooms frequently, especially bedrooms. Put some ammonia on a cloth, to dampen it as a dust cloth.
o Sterilize toilet seats. The infected person should sleep alone.

These are useful suggestions for you to try yourself but please once again do not hesitate in getting professional help if they persist. Complications arising from prolonged parasite infestation are serious. Until next time, Best of health to you. Craig Hitchens (B.Sc.Nat.)
I hope this has helped you all in some way out there.
Until next time, Best Of Health To You. Craig Hitchens (B.Sc.Nat.)
25% Discount on your First ONLINE Consultation - CLICK HERE AND FILL OUT THE CONTACT FORM!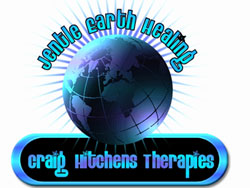 Amazing Introductory Offers:For Natural Health, Fitness & Beauty Businesses!
Check out these great offers from South East Qld's finest health and beauty businesses! - simply click the link and fill out the contact form,
Nirvana Rejuvenation Spa & Hair Salon(Lutwyche)Lavandou Facial Package Normally $150 Only $99 1 hour Lavandou Facial plus Professional Skin Assessment Free Gentle Scalp Massage Free Pevonia Shower Gel 125ml Free Pevonia Hand Gel 125ml Free ( Please fill out the contact form on the page)
Fit Minds & Bodies(Brisbane Wide): "One free group network session or 10% off our normal package rates". ( Please fill out the contact form on the page)
Neverfail Spring Water (National):"3 Bottles + 12 x 600mL bottles FREE* with your first order! (Call 13 30 37 to order – be sure to mention myhealthspecials)"

Join our Fit+ club for $10 and save 5% off our already low prices!!! ( Please fill out the contact form on the page)
Anew medi Spa (Everton Park) THIRD TREATMENT FREE! ( Please fill out the contact form on the page)
The Vitality Zone(Mt Gravatt/Toowong)Invest in 5 massages receive one FREE! Invest in a cellular Health analysis and receive one FREE! ! (Please fill out the contact form on the page)
Nourished.com.au:Natural Health, Wellness and Lifestyle!

Get Up Climate Action Campaign By Joanne Hay
It's a really simple process. Just add your name to the petition. Get Up is running a campaign to gee up the pollies to make some changes and reduce global warming. Just fill out the form and then get on with nourishing.

Brought to you by www.nourished.com.au
Short and Sweet: Smoked Salmon Stacks with Wasabi Yogurt!
Ingredients
1 cup Australian Low Fat Natural Yogurt 2 teaspoons wasabi paste 2 x wholemeal flat mountain bread, cut into 12 squares 150g smoked salmon, sliced 12 butter lettuce leaves, shredded 1 continental cucumber, peeled, halved, deseeded and thinly sliced 1/4 bunch chives, chopped into 3cm long pieces pepper, to taste
Method
1. Combine yogurt and wasabi paste. 2. Bake mountain bread squares at 200?C for 3 minutes or until golden brown. 3. Combine butter lettuce and cucumber. For serving place bread squares onto each serving plate, top with smoked salmon, lettuce and cucumber and a dollop of wasabi yogurt. Repeat layers and finishing with remaining wasabi yogurt. Garnish with chives and season to taste with pepper.
nergy: 899.31 Sugar: 8.1 Protein: 17.7 Sodium: 906.96 Calcium: 219 Fat: 2.98 SaFa: .58 Iron: 1.83 Carbohydrate: 26.41 Fibre: 3.58
Brought to you by www.dairyaustralia.com.au
Laughter is the best medicine!
A hopeful suitor dropped into a computer-dating center and registered his qualifications. He wanted someone who enjoyed water sports, liked company, favored formal attire, and was very small. The computer operated faultlessly. It sent him a penguin.

"I am only one; but I am still one. I cannot do everything, but still I can do something. I will not refuse to do the something I can do Helen Keller, speaker, author
For a Good Cause: Why support The Kids Help Line?
Kids Help Line is Australia's only free, confidential and anonymous, 24-hour telephone and online counselling service specifically for young people aged between five and 18.
In the next issue of "Naturally Happy"
If this link doesn't work please email info@myhealthspecials.com.au
My Health Specials provides this information for your personal education and enrichment. Information provided should not be used for diagnosing or treating a health problem or disease. Nor should the information replace the advice of your health care practitioner. Always seek professional advice if suffering an illness. My Health Specials Pty Ltd and all parties involved in the conception, production, ongoing maintenance and operation of Naturally Happy accept no liability and no responsibility for any damage whatsoever arising from or in connection to your use or operation of the website or information contained in this e-magazine.