Issue Number 9 - November 2001

In this months issue of "Naturally Happy"

Give the gift of health this Christmas!
Thought about Christmas gifts yet? You will find over 400 Gift Voucher ideas for your family, friends and partners at www.myhealthspecials.com.au. Indulge them in a day spa, massage or even invest in a gym membership. Simply click on one of our 68 categories, locate a business in your desired area and print off your money saving voucher.
We guarantee you will save your hard earned dollars on all your Christmas shopping - and by giving the gift of health you will add to the quality of life of your friends and family.
Bowen Therapy: Non-invasive treatments!
Bowen Therapy is a non-invasive therapeutic system utilising cross-fiber muscle movement in specific areas of the body.
The "moves" are performed in categorical secession with waiting periods incorporated during the session. This resting time is very important because it appears to have the action of allowing the brain to assimilate, correlate and create a positive response in the area being treated. When these "moves" are placed precisely across muscle and connective tissue, they alleviate a multitude of physical ailments.
This has been verified by patients in clinical testing as effective in a high percentage of cases. It balances connective and muscular tissues of the body and improves circulation, lymphatic and venous drainage.
Bowen has been used effectively for these conditions:
To find your closest Bowen Therapist Click here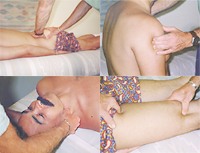 Luv Shack online: Healthy gift ideas!
Luv Shack Online has created a great range of health promoting gift boxes and hampers. They deliver Australia wide and provide fast and efficient service with style.
CONVENIENT online shopping

DELIVERY Australia wide

GREAT VALUE gift baskets and hampers

BRIGHT & MODERN gift boxes

STYLISH flower arrangements

SECURE credit card transactions
Part of this months giveaway is one of the below Wild Nature gift boxes. The box includes: Pure organic Aloe Vera body lotion and Aloe vera cleanser bar and a sarong. Total value $58.00

These products are particularly useful for people that find their skin hard to manage, who demand or more importantly need natural, organic based ingredients.

To check out their huge range of gift ideas phone toll free 1800 001 470.or Click Here

Perfect Gifts Perfectly Easy!
Practitioner Profile: Kym Krey:Hair ,Beauty and Body
With 17 years industry experience, Kym has a wealth of knowledge to share on all areas of professional hairdressing and beauty services, but more importantly, she is very aware of the trust her clients place in her and her wonderful team to deliver the right result, every time.
We understand that when it comes to such a personal area as your grooming, you are looking for so much more than just a hairdresser or cosmetician. You want a highly trained professional with excellent skills and a current fashion sense, but you also want them to listen! A caring professional, focussed entirely on you and your grooming needs in a relaxed enviroment. We listen, we innvovate and we deliver EVERY time!
Qualifications and Experience
Many years in management and regional management of large salon groups, before specialising as a Technical consultant with Wella Australia, educating thousands of hairdressers in the detailed areas of fashion colour technique, colour correction and chemical reformation (waving/relaxing) theory and practice. From there, I I focussed more on salon and business management, working with salon owners to assist them in understanding all areas of their business and running a more efficient and productive salon. In 1996, I decided that it was to time to create something special within this industry that I am so passionate about and Hairlucination was born. In December, we re-launch our salon with a new name, logo and new look and will transform into....I.C.E Hair,Beauty,Body. I am fortunate that my technical specialist experience and training qualifications ensure that my staff receive a high level of ongoing training so we are able to continually provide our clients with cutting edge quality of work
Services available
All facets of professional hairdressing,facial,and body waxing,therapeutic massage, manicure, pedicure and in early 2002, we add acrylic and gel nails to our repertoire as well!
Come on in, we'd love to meet you. you'll haver a great time and we can pamper you for days!!!
to contact Kym and her team Click here
Short and Sweet: Chocolate and Almond Fudge Torte with Cointreau Chocolate Sauce
Serves: 16
Recipe:
125g Australian Butter
500g dark chocolate, chopped
4 eggs
1/4 cup white sugar
1/4 cup brown sugar
3/4 cup ground almonds
3 tablespoons plain flour
100g roasted hazelnuts
cocoa, for dusting
CHOCOLATE SAUCE
200g dark chocolate, chopped, extra
30g Australian Butter, extra
1/4 cup Australian Thickened Cream
1 tablespoon Cointreau

Method :
Place butter and chocolate in a double saucepan. Heat gently over simmering water, until smooth and melted. Allow to cool completely. Beat eggs and sugars together until very thick and creamy. Fold in almonds, flour and chocolate mixture. Pour mixture into a 22cm buttered and lined springform pan. Top with hazelnuts. Bake at 180° C for 45-50 minutes. Allow to cool for 30 minutes before dusting heavily with cocoa. Serve with Chocolate Sauce and pure cream. CHOCOLATE SAUCE - Place extra chocolate and extra butter in a double saucepan. Heat gently over simmering water, until smooth and melted. Stir in cream and Cointreau.
Nutritional Analysis per serve
Serves : 16 Carbohydrates : 35 g
Energy : 1874 kJ Calcium : 61 mg
Protein : 7 g Iron : mg
Fat : 32 g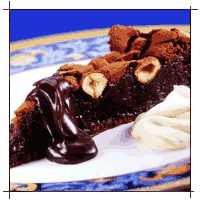 --------------------------------------------------------------------------------
--------------------------------------------------------------------------------
How many dogs does it take to change a light bulb?
Golden Retriever:"The sun is shining, the day is young. We've got our whole lives ahead us and you're inside worrying about a light bulb?

German Shepherd:"I'll guard it while you decide"

Toy Poodle:"I'll just blow in the border collies ear and he'll do it. By the time he finishes rewiring the house,my nails will be dry"

Rottweiler: " Go ahead! Make me!"

Jack Russell:" I can reach it! Just another 20 jumps and its all mine!"

Cocker Spaniel:" why change it? I can pee on the carpet in the dark"

Labrador:"Me! Me! Please let me change the bulb! Can I?"

Greyhound: "If it isn't moving, who cares?"
"Happiness comes of the capacity to feel deeply, to enjoy simply, to think freely, to risk life, to be needed."

Storm Jameson
Congratulations to Vera,Kerry,Michelle, Joanne and Steven for winning this months giveaway.
You have won a Hyperbaric Oxygen Chamber session thanks to Oxygen Works. This months giveaway consists of 3 great prizes including, a Wild Nature gift box thanks to www.luvshackonline.com.au a 1 hour massage thanks to the Hilton e Health Club and Day Spa and 2 relaxation Cd's thanks to New World Music.
3 Prizes! 3 Winners!
Don't forget if you subscribe to Naturally Happy you are automatically entered into every monthly giveaway.
GOOD LUCK!

In the next issue of "Naturally Happy"
My Health Specials provides this information for your personal education and enrichment. Information provided should not be used for diagnosing or treating a health problem or disease. Nor should the information replace the advice of your health care practitioner. Always seek professional advice if suffering an illness.