Neverfail Springwater...the way nature intended it to be!

Neverfail is Australia's largest spring water brand delivered directly to the home and workplace.

Why Choose Neverfail?

Authentic Australian spring water with a refreshing clean taste and crystal-clear presentation

Free, regular delivery to suit your schedule

Coolers in a variety of styles and colours including white, gun metal grey and stainless steel

Comprehensive range of bottles, cups, racks and taps (including child proof)

To receive the 5 Free bottle MyHealthSpecials offer* simply call 13 30 37 and quote 10216 or email us at MHSOffer@neverfail.com.au *Annual Cooler Customers Only.
For the full range of Neverfail products and services go to www.neverfail.com.au (www.piccadilly.com.au for SA residents).


To sign up to receive our eVitality Quarterly Communication simply click on the logo below.



eVitality has been created to provide closer contact with our valued customers, allowing us to keep them informed of everything that is happening at Neverfail Springwater. It offers health and well being advice, the latest product and service innovations and special offers and promotions tailored to meet the customer's needs.

Neverfail Springwater Limited is a wholly-owned subsidiary of Coca-Cola Amatil. Neverfail and Piccadilly are registered trademarks of The Coca-Cola Company.
The Importance of Kidney Cleansing:By Miriam Young!

The most important function of the kidneys is in the regulation of the body's water content. By way of excretion or reabsorption, the kidneys have the ability to differentiate between wastes and vital substances. Considering water comprises two thirds of our body mass, the kidneys are a very important, and very busy organ. As well as playing an essential role in the maintenance of blood pressure, the kidneys regulate salt balance and maintain the acid/alkali balance of the blood. Correct functioning of the kidneys is vital to health.

Spiritually speaking, the kidneys connect us to our sacral centre, (second chakra, Tan Tien or Hara), which connects us to all life, as in other humans, trees, plants etc. In Traditional Chinese Medicine, the kidneys store the "Jing" or life essence/vitality of a person. There is "congenital" jing, which we are born with, and relates to the constitution of our parents. There is also "acquired" jing, which can be obtained from food and herbs; these can fortify inherited jing. Substances that deplete Jing include: Pesticides in food, chlorinated water, alcohol, drugs, pharmaceuticals including antibiotics, unnecessary or excessive intake of vitamin and mineral supplements, (particularly vitamin C and calcium), coffee and tea, animal proteins, low fat foods, genetically engineered food, carbonated beverages, chocolate and sweets, tobacco, food additives and heavy metals.

From a Medical Herbalists point of view, a concoction of these substances combined with dehydration, excessive fear, anxiety, stress and/or overwork continually over a period of time, will eventually cause the formation of mineral deposits in the kidneys - crystals and stones. Even though kidney stones affect only 5-10% of the population, most people have small crystalline deposits of some kind. It is only when they reach large sizes, being several inches across, do they cause acute pain. (There is a 60-70% chance of recurrence in these people). Most of us have small deposits however, and it is these small deposits that may cause chronic problems and imbalances in the body.

If you suffer from hair loss, premature ageing, lower back pain, knee and hip problems, hearing loss, tinnitus or any ear disease at all, it may be interesting to note that these are all symptoms of kidney crystalline formation. In fact, all bone problems, urinary and reproductive imbalances, (including infertility and good old period pain!), as well as sexual problems, can all be symptoms indicating toxic build up in the plumbing system of our bodies. Even the lungs cannot function optimally, if the kidneys are carrying a toxic load and/or are depleted.

Many kidney stone formations result from sleeping in after 6 or 7am. Since urine is forced to stay in the body longer than normal, some of its constituents begin to precipitate and form crystals. If sleeping until 8am for example becomes a regular habit, there may even be bacterial infection, accompanied by pain in the joints, headaches or heaviness.

According to the tradition of Chinese Medicine, the emotion 'fear' relates to kidney energy, cleansing the kidneys may enable a person to release deep-seated fear that has been depleting their vital Jing since childhood. Quite often the side effects of weak kidneys are feeling fearful coupled with an inferiority complex. This may include feeling very timid and panicky, accompanied by breathing difficulties. We may work on our fear to release stagnant energy in our kidneys. We can cleanse our kidneys to regain emotional balance and to return to our essential nature-that of peace. When we are rebalanced, we know what is natural fear and what is excessive.

'Miriam Young's Pure Plant Kidney Cleanse' involves organic fruit and vegetable juicing, specific diet or (if attending The Detox For Life Health Retreat, juice fasting), a special way to prepare beetroot, and the taking of liquid herbal medicine (tincture).

The herbal tincture contains eight different herbs, each designed to dissolve a different type of kidney stone or crystalline formation. If you have been diagnosed with kidney stones for example it makes no difference whether they are made up of calcium oxalate (approximately 70%), calcium phosphate, cystine, uric acid or struvite (stones that are derived from the formation of bacteria). The herbal formula will dissolve every type of crystal. There is no pain involved; they are gently dissolved, not flushed out. I have used my Pure Plant Kidney Cleanse herbal formulation successfully on patients, including an eleven-year-old boy, who had had two operations to remove kidney stones from his kidneys, which had not been successful.

Copyright: Miriam Young
For further details clickhere or contact 07 3279 4816


Curves: 30 minutes a day, 3 times a week!
Curves is the largest fitness franchise in the world with over 8,000 locations worldwide. Curves Clubs can be found in the United States, Canada, Europe, South America, The Caribbean, Mexico, Australia, New Zealand and we're still growing. We are the first fitness and weight loss facility dedicated to providing affordable, one-stop exercise and nutritional information for women.

Only one place can give you the strength of over 4 million women...
Is Curves Right For Me?

Can you spend 30 minutes a day, 3 times a week, to improve your quality of life?

Would you rather exercise in an environment designed especially for women?

Would encouragement from other women help you reach your fitness goals?

Have you tried or considered other fitness clubs and just never found one that felt right for you?

Have you ever wished for a fitness program that was achievable and fun?

Are you ready to amaze yourself?
South East Qld Locations
INTRODUCTORY OFFER
50% off your joining fee (when joining for a 12-month membership - be sure to mention myhealthspecials.com.au )
Click the below links for you locals area
Curves - Albany Creek 07 3325 1111
Curves - Ashgrove 07 3366 3800
Curves - Bribie Island 07 3410 7060
Curves - Brisbane(CBD) 07 3211 8888
Curves - Caloundra (Currumundi) 07 5493 3266
Curves - Capalaba 07 3245 5388
Curves - Carindale 07 3843 3600
Curves - Cleveland 07 3286 5637
Curves - Indooroopilly 07 3720 0355
Curves - Lutwyche 07 3357 1499
Curves - Mitchelton 07 3354 4455
Curves - Moorooka 07 3892 7855
Curves - Morayfield/Caboolture 07 5495 2417

Curves - Mt Ommaney 07 3376 2266
Curves - Oxenford 07 5580 1825
Curves - Redcliffe 07 3883 1200
Curves - Sandgate 07 3269 2296
Curves - Southport 07 55264183
Curves - Strathpine 07 3889 9890
Curves - Toowoomba (Newtown) 07 4634 2411

Naturopathic Health Care: with Christine Vanden Bergh!

Detoxification
Concepts of internal cleansing and detoxification are integral to naturopathic philosophy and have a long history as the basis for treatment in many traditional systems of medicine & healing.

A substantial and growing body of research supports the significant impact on health of acute and chronic exposure to endogenous (internal) and exogenous (external) toxins. Exposure to xenobiotics (chemical substances that are foreign to the biological system) are becoming higher due to their rising levels in our food, water and environment.

The bio-accumulation of these compounds may potentially lead to a variety of metabolic and systemic dysfunctions. The systems most affected by xenobiotics are the immune, neurological, and endocrine systems.

Toxins that the body is unable to eliminate build up in the tissues, typically in the fat stores and bone. When this exposure is combined with increased endogenous load from faulty digestion, our "innate detoxification systems" become even more important.

Detoxification of harmful substances is a continual process in the body. The ability to detoxify and eliminate toxins largely determines an individual's health status. Studies show that the enzymes that control the various stages of detoxification may vary from person to person, and this may help to explain individual variations in tolerances to caffeine, alcohol and other chemical stressors.

Sluggish, imbalanced or impaired detoxification mechanisms can lead to the accumulation and deposition of metabolic toxins and increased free radical production resulting in reduced energy production. Once the detoxification system becomes overloaded, toxic metabolites accumulate and sensitivity to foods and other chemical compounds may become greater.

Naturopathic Health Care Treatment:
A detoxification program must be carried out by a qualified experienced naturopath who follows the exact sequence for the safe removal of toxins from the body:
1. Tonification of the adrenal and immune systems to enhance energy and vital force
2. Dietary specifics
3. Eliminate systemic/Gastrointestinal Tract (GIT) micro-organisms i.e. viruses, bacterial, candida and parasitic over-growth
4. Cleanse and repair GIT mucous membrane lining
5. Enhance the detoxification processes of the liver, kidneys and lymphatic system
6. Cleanse blood and skin

*Naturopathic toxicity assessment methods include: Live-blood assessment, bioimpedance assessment, acidity assessment & zinc taste test assessment.
Vanden Bergh natural therapies www.vandenberghnt.com

INTRODUCTORY OFFER
Experience our Remedial, Lymphatic or Relaxation Massage by Accredited Experienced Professionals. 1hour treatment only $49.50
***Gift Certificates available***
For further details clickhere or call 07 3352 6799

Clear Mountain Sanctuary Day Spa: On Top of The World!
Your "Sanctuary" away from the everyday...........a resort environment body & beauty day spa for men and women, at Clear Mountain. Open seven days a week, the Sanctuary welcomes you to indulge and relax both your mind and body in our tranquil haven away from the everyday.

Allow your mind, body & sould to revitalise, rejuvenate, renew and refresh as you relax experiencing our specialised skin and body treatments only using the best natural, local product manufactured right here in Brisbane. EarthSentials, customised products addresses everyones individual skin & body needs to get the most effective results free from harsh chemicals.

If you want to feel 'on top of the world' literally, you need to visit Clear mountain Sanctuary Spa, and if you wish to extend you experience and stay at Quality Hotel Clear Mountain or simply to have lunch in our beautiful Outlook Restuarant, enjoying all the views we have to offer, just ask us for more information about this.

We also offer a large range of services from Pedicures, facials, a range of massages including Deluxe Therapuetic Massage, clay wraps, scalp massage just to name a few. For a total list please call us on 07 3298 5100 to send out an information pack, or visit Clear Mountain's website at www.clearmt.com.au where you can also purchase gift vouchers.

Clear Mountain Sanctuary Spa, a necessity, not a fantasy....come and visit us and be pampered......you'll be glad you did!
Under NEW management with NEW treatments including,
Oxygen Therapy, Microdermabrasion, IPL Hair Removal, Skin Rejuvenation and Sun Fx Spray Tanning.
INTRODUCTORY OFFER
Duet Treatment - Two Deluxe Therapeutic Massages for $75.00 each Normally $89 each. Save $28 per couple, when you mention myhealthspecials.
For further details call 07 3298 6072 or clickhere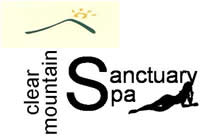 Nourished.com.au:Natural Health, Wellness and Lifestyle!

By Joanne Hay
Nutrition For Making Babies
Often I am asked about this particular topic, most recently by a new friend planning to conceive soon. I have many years of experience with dietary experimentation while pregnant, birthing and breastfeeding, some experiments less successful than others. Luckily I discovered the world of native nutrition during my 3rd pregnancy, and following the lead of my ancestors, I was able to turn around the health issues that had plagued me. I even improved my skin, hair, muscle definition and sexual desire (common complaints of breastfeeding women). (more…)

Brought to you by www.nourished.com.au
Short and Sweet: Stracciatella Roman Egg-drop Soup
By Jessica Prentice

Often in Spring we are craving simple foods. This meal helps you feel clean and light and it is quick to make.

Ingredients:
" 2 cups or so chicken broth " a leaf or two of swiss chard, spinach or other leafy green " an egg " good parmesan cheese " sea salt or fish sauce " black pepper " nutmeg

Procedure:

Bring chicken broth to a boil in a small pan. Season with fish sauce or salt to taste. Chop chard leaf finely and add to boiling broth.
Grate parmesan on the finest grater you have (it's best to get it as close to 'powder' as possible) until you have about a tablespoon, or use pre-grated parmesan if you have that around. In a bowl, whisk the egg together with the parmesan cheese.
Beat the soup with the whisk while you pour in the egg mixture in a thin stream. The egg should cook immediately.
Pour the soup into the bowl, grind some black pepper on top, grate some nutmeg on top, and eat. Accompany with generously buttered good sourdough bread if you have it.

Serves 1
Brought to you by www.nourished.com.au
Laughter is the best medicine!
A man rushed into the doctors office and shouted "Doctor! I think I'm shrinking!"
The Doctor calmly responded,"now settle down sir, you'll just have to be a little patient"
Quote of the month!

Love is the beauty of the soul. Saint Augustine
Win a $200 Voucher Thanks to BodiZone!
BodiZone is proudly a 100% Australian owned and operated company. Based in Geebung Brisbane we are dedicated to being the leader in high quality protein powders that are carbohydrate controlled that will help assist you in reaching your desired health and fitness goals.

Our aim is to get you into the best shape of your life and keep you there forever. We believe being fit and healthy is an achievable goal for most people and we have dedicated our resources to developing simple yet effective ways to help you stay in shape all year round. We have designed easy to follow eating and training programs with all the advice you will need to make informed decisions on your personal nutrition and training needs. clickhere
Super Special - "Musashi Fat Metaboliser". RRP $72.20 MHS price $43.20!
Delivery Australia wide!
Don't forget that all subscribers to Naturally Happy are automatically included in all our giveaways- GOOD LUCK!
Click here for more details.
.
In the next issue of "Naturally Happy"
My Health Specials provides this information for your personal education and enrichment. Information provided should not be used for diagnosing or treating a health problem or disease. Nor should the information replace the advice of your health care practitioner. Always seek professional advice if suffering an illness. My Health Specials Pty Ltd and all parties involved in the conception, production, ongoing maintenance and operation of Naturally Happy accept no liability and no responsibility for any damage whatsoever arising from or in connection to your use or operation of the website or information contained in this e-magazine.