Brisbane Personal Trainers: Working Through Your Injuries!
with Kim Spillman
'Focus on what you can do not what you can't do'
If you are injured or suffer from chronic pain, your main aim when training should be to address these things. You may need to build up stability and control in a joint before you use it thousands of times, even for an exercise as simple as walking.

We've seen many people over the years achieve amazing things in the face of adversity. Your injury may be a problem but if there is anything your body can do (and your doc/physio has given you the ok) then do it!

Work on improving the strength and control of this 1 exercise and in time you may be able to add another, then another.

Set up the correct progression and you may be astounded at your improvement. (If you need assistance,ask your trainer/physio)This may mean only increasing your workout by 5 minutes or 1 rep or .25 kg per month.

Who cares - as long as you are improving? The alternative is to do nothing and nothing will happen. This process can be heart breaking at times, so focus on what you can do, not what you can't do.

Brisbane Personal Trainers 07 3857 7100 or email brispertrain@bigpond.com

INTRODUCTORY OFFER
Receive a FREE session when you purchase the first 5 PT sessions!
clickhere for details!
Community Hydrotherapy: Comfortable Treatments!
Hydrotherapy is a general term to describe therapy (exercise and treatment) in warm water. Physiotherapists who have undergone additional training in this area are known as Aquatic Physiotherapists. Aquatic physiotherapy (hydrotherapy) involves rehabilitation in heated (usually 32-34 degrees C), specially designed pools. Therapists use specific techniques and equipment that utilise the unique properties of water such as buoyancy, resistance etc. Warm water is ideal for increasing flexibility, decreasing pain, muscle spasm and swelling, unloading joints, improving circulation as well as having beneficial effects on the respiratory system.

Aquatic physiotherapy can be just as effective as therapy on land, often involving less discomfort! And you don't have to be able to swim to use hydrotherapy! Most hydrotherapy pools have rails you can hold on to, shallow ends you can stand, and flotation equipment to help if needed.

A wide range of conditions respond to hydrotherapy, including arthritis, neck and back pain, neurological conditions, joint replacements, stress relief, ante-natal/post-natal exercise, orthoepoedic and sporting injuries, A relatively new are that Hydrotherapy has started to be used in is the treatment of overweight and obese individuals who find it difficult to exercise on land. Water provides a near-weightless environment where individuals can still work at a comparable intensity to land-based exercise, but for longer without discomfort or post-exercise soreness. This use of hydrotherapy has been used at the Wesley Hospital and RiverCity Private Hospitals with great success. A number of patients that have come through have lost significant amounts of weight and kept it off with regular exercise in the pool, and have even been able to progress to gym-based exercise they would not have been able to manage initially.

Community Hydrotherapy was established in 2004 by Aquatic Physiotherapist Alwyn Blayse, who had worked in Hydrotherapy Pools around Brisbane as a private practitioner on his own for several years.
"I'm obviously a huge believer in hydrotherapy, and have seen it work wonders for a wide range of clients with a wide range of conditions. I started off working as a physiotherapist in hospitals, seeing the pain that people had after doing exercise on land after undergoing joint replacement surgery. I then saw the same patients exercising pain-free in the water, and wondered why anyone would want to do otherwise!"

Community Hydrotherapy has grown into a leading provider of hydrotherapy services across Brisbane and SE QLD. Physiotherapists from Community Hydrotherapy see clients at heated pools, hydrotherapy centres, home pools and homes at all locations. They also provide general information about hydrotherapy and help finding pools for people even if they do not wish to see a physiotherapist.

Alwyn explains how the system was set up. "I wanted to establish a service whereby patients wishing to access hydrotherapy services could easily call a 1300 number, and talk to a qualified aquatic physiotherapist who could discuss their individual requirements. This would include finding a pool as close-by as possible, one that has the equipment and access that they need, and then being able to see this physiotherapist at this pool at a convenient time."

Another thing that differentiates Community Hydrotherapy from other aquatic physiotherapy providers is our longer consultations and follow-up system. "We have found that longer (30 minute) consultations really help someone to get the most out of their hydrotherapy session. We also try to keep regular contact with all of our clients on an on-going basis," Alwyn says. "When people are doing exercise on their own, sometimes something may have happened medically, or they may feel that the exercises need changing etc. We have found people really appreciate the fact we take time to check up on them after their consultations and make sure everything is going OK!'

Feel free to call our friendly team at Community Hydrotherapy on 1300669611 for more information about how hydrotherapy may be of benefit to you!
INTRODUCTORY OFFER
Introduce a friend and receive your next consultation free of charge (does not include any pool fees)
clickhere for more details


Holosync:Meditation Made Easy!
The benefits of meditation on the mind and body have been known for thousands of years and have recently been validated in scientific studies. Unfortunately, many people find it difficult to meditate and give up without receiving these benefits. This problem has now been solved with the release of a powerful audio technology called Holosync that sends a very specific stimulus to the brain and creates states of deep meditation, quickly and easily.

Stimulating the brain with Holosync releases stress-reducing chemicals that are highly pleasurable. Most people go easily into a deep, trance-like meditative state normally only attained by experienced monks who have been meditating for over 20 years. In fact, EEG studies show the brain patterns experienced are actually deeper than those attained by monks.

As new neural pathways connect and synchronise the two sides of the brain, individuals develop what scientists call "whole brain functioning," which improves learning, intuition, mental clarity, creativity, concentration, and intelligence, as well as amazing quantum leaps in insight and self-awareness.

New research also reveals that even short-term exposure to Holosync creates significant increases in DHEA which is a precursor, or source ingredient, to virtually every hormone your body needs and is a buffer against stress-related hormones . It is a key determinant of physiological age. When DHEA levels are high, the body is at its peak - vibrant, healthy, and able to combat disease effectively.

Holosync also increases your ability to deal with stress and releases emotions such as anger, fear, sadness and anxiety. When Holosync is used regularly over time, many people discover that dysfunctional feelings and behaviours fall away - even those that have stubbornly resisted change in the past.


INTRODUCTORY OFFER
For more details and a FREE report and demo audio CD (or tape), call Freecall 1800 70 70 47 (24hrs, 7 days) ( mention myhealthspecials) or clickhere

The Cat's Back:Exclusive Invites To See Steven Jaymes!

Melbourne based singer /songwriter Steven Jaymes has started a groundswell in the toughest market of them all - the USA!

USA radio loves his material, as do the key film/TV music supervisors across the U.S. and abroad. His album Hemingway's Cats has even caught the attention of LA executive producer Thom Mount (Tequila Sunrise, Bull Durham) spawning a co-write on the up & coming soundtrack for the big budget movie PAPA.

Steven will be on tour in August/September as part of the Australian Government Contemporary Music Touring Program.
EXCLUSIVE FREE TICKET OFFER FOR NATURALLY HAPPY SUBSCRIBERS!
To receive 2 tickets to a Steven Jaymes performance simply email us on jamie@rexmorganrecords.com and tell us which performance you would like to attend and we'll send you back a confirmation!
If you've yet to hear what all the fuss is about checkout www.stevenjaymes.com
Hamilton Island Race Week August 27
Airlie Beach August 28 - KC's Bar
Townsville September 3 Rhino Bar
Mackay September 10 Clarion hotel
Brisbane September 11 Garuva
Byron Bay September 12 The Buddha bar
Tamworth September 13 The Vault
Coonabarrabran September 14 Imperial hotel
Mudgee September 15 Wineglass Restaurant
Orange September 16 Hotel Canobolas
Sydney September 20 The Old Manly Boat Shed
Sydney September 21 The Vanguard ( Foxtel filming)
Sydney September 22 HMV Pitt st
Canberra September 22 The Holy Grail
Melbourne September 24 Manchester Lane
Belgrave September 25 Ruby's Lounge & Bar

"There's inevitably a touch of the Joel/John axis in the work of Australian Steven Jaymes - Check out the outro to Emily fora start- and that's the nature of the singing piano player I suppose - the Ben Folds and The Joe Jacksons are few and far between - but there's a healthy leavening of the spirit of Leon Russell, Bruce Springsteen and Van Morrison in there too, which makes this album a truly sweet surprise" Michael Smith Drum Media - Sydney
Download from MSN
Purchase from HMV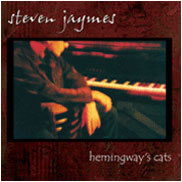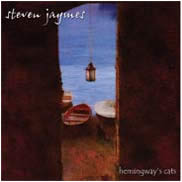 Limited edition still available
myhealthspecials.com.au: WELL Worth A Visit!
Since launching in late 1999 www.myhealthspecials.com.au has continued to build a solid reputation as the finest destination for health and beauty solutions!
- 103 categories to choose from!
- Publisher of the Naturally Happy e-magazine - sent now to 9000 + subscribers!
www.myhealthspecials.com.au can help you:
Save time searching for your nearest natural health, fitness or beauty specialist.
Save your money with special introductory offers that you can print and redeem.
Connect with others who share your interests at a local sports club, association or charity.
Attention Health and Beauty Business Owners
why try myhealthspecials.com.au?
myhealthspecials.com.au gives your business a measurable, flexible and affordable medium to reach and impact your desired target market both demographically and geographically.
easurable through our 100% accurate measuring system allowing you to gauge your advertising dollar.
Flexible through the ability to make changes to your web page instantly and ongoing at no charge.
Affordable.You will be pleasantly surprised with the investment.
We can tailor a promotional formula to suit your on-line objectives through a powerful combination of links, profiles and call to action messages.

clickhere to see what our clients are saying!
12 months of cost-effective on-line promotion for your business!
A full web page dedicated to your business!
200-300 feature article in Naturally Happy! ( 3 month waiting list)
I don't have a website- Utilise us for your on-line presence!
I already have a website- you'll build your client base via us and receive ongoing qualified traffic to your site!
For further information contact the My Health Specials office on 07 3342 7456 or email info@myhealthspecials.com.au - Jamie, Bella, Steve.
If you also need a web site let us know!
Nourished.com.au:Natural Health, Wellness and Lifestyle!

Wheaty Indiscretions: what happens to wheat, from seed to storage.
By Jen Allbritton
Wheat—America's grain of choice. Its hardy, glutenous consistency makes it practical for a variety of foodstuffs—cakes, breads, pastas, cookies, bagels, pretzels and cereals that have been puffed, shredded and shaped. This ancient grain can actually be very nutritious when it is grown and prepared in the appropriate manner. Unfortunately, the indiscretions inflicted by our modern farming techniques and milling practices have dramatically reduced the quality of the commercial wheat berry and the flour it makes. You might think, "Wheat is wheat—what can they do that makes commercial varieties so bad?" Listen up, because you are in for a surprise! (more…)

Brought to you by www.nourished.com.au
By Joanne Hay

Whole Grains have so much to offer nutritionally. Vitamin E and many of the B vitamins as well as amino acids, which along with those from legumes and nuts, give us protein for growth and repair. Unfortunately, the way grains are grown, stored, processed and prepared leaves them virually undigestible at best. Grinding our own grains and baking bread at home is, for most people, the only way to eat grains well. Having never had much success with baking, this recipe is my favourite way to get whole grains in our diet.

1 cup lentils (red lentils or moong dahl are my favourite for this recipe) 2 cups brown rice (you can use any pulses and any grains) warm filtered water 2 tablespoons whey or lemon juice. (Do not use commercially dried whey powder) 1 teaspoon salt garlic chilli (optional) cumin carraway seeds ghee

Wash lentils and rice well and place in separate bowls. Cover each wih warm water, add 1 tablespoon whey or lemon juice to each and leave overnight in a warm place. Drain each and process separately in a food processor with a little water until smooth. Mix lentils and rice together with salt and enough warm water to make a batter about the consistency of cream. Add ground garlic and chilli, cumin and whole carraway seeds. Cover and leave another 24 hours in a warm place. You can use a little every day and continue to ferment the mixture for a week. The taste gets more sour and the grains more digestible as time goes on, so refrigerate when you need to slow the fermentation process.

To cook, heat a heavy, cast-iron skillet and coat with ghee. I like to use quite a bit of ghee, about a teaspoon per dosa. You may need to add water to get the batter to the desired consistency again. Ladle about 1/4 cup into pan. Use the back of the ladle to spread the batter in a spiral from the centre. Cook about 5 minutes, until the batter dries, then flip.

We love these dosas with a curry feast or as a breakfast food with salsa and sour cream.

We are grateful to Sally Fallon and Sandor Katz for their inspiring versions of this recipe.
For more recipes check out www.nourished.com.au
Laughter is the best medicine!
The boss returned from lunch in a good mood and called the whole staff in to listen to a couple of jokes he had picked up. Everybody, but one girl laughed uproariously. "What's the matter?" grumbled the boss. "Haven't you got a sense of humor?" "I don't have to laugh," she replied. "I'm leaving Friday."
Quote of the month!

""The road of success is like running up an escalator going down, you need to keep running, if you walk, you stand still, if you stop you are going down!"
Anneloes Zuiderveen
Win a Complimentary Health Check for Two Thanks to SoulBody Health Checks!
Your SoulBody Health Check consultant is qualified as a Master Trainer, encompassing nutrition and exercise physiology for general and special populations, and has been in the health & fitness industry for at least 5 - 10 years. Once you become a SoulBody Health Check client, you have access to online advice from your consultant, and can tap into their large network of support clinicians including General Practitioners, Naturopaths, Nutritionalists, Physiotherapists, Life Coaches, Chiropractors, Acupuncturists and Massage Therapists. The combined knowledge of these specialists will assist in helping you to live a longer, healthier life. clickhere
Don't forget that all subscribers to Naturally Happy are automatically included in all our giveaways- GOOD LUCK!
Click here for more details.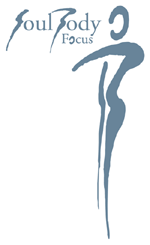 .
In the next issue of "Naturally Happy"
My Health Specials provides this information for your personal education and enrichment. Information provided should not be used for diagnosing or treating a health problem or disease. Nor should the information replace the advice of your health care practitioner. Always seek professional advice if suffering an illness. My Health Specials Pty Ltd and all parties involved in the conception, production, ongoing maintenance and operation of Naturally Happy accept no liability and no responsibility for any damage whatsoever arising from or in connection to your use or operation of the website or information contained in this e-magazine.