Get Your Body Running:With Outpace Personal Training!
Get ready for The Sunday Mail Suncorp Bridge to Brisbane Fun Run 80 day challenge.
Special offer for Naturally Happy readers - receive your first session/ fitness assessment for free!
Starts on the 19th of May.
Cost $9 per session and $55 per month.
Click the below for details!
http://www.outpace.com.au/running.htm
Want A toned Body & Great Legs - Get Your Body Running!
The Sunday Mail Suncorp Bridge to Brisbane Fun Run 80 day challenge

You can run The Sunday Mail Suncorp Bridge to Brisbane Fun Run with no training and struggle, OR you can use it as motivation to improve your fitness, get your body in shape or to challenge yourself.

Exercise is so much easier if you have something to train for and someone to train with. Our running groups are the perfect opportunity to improve your fitness in a friendly, social environment and get expert advice at reasonable price.

Join In At Any Time

Our groups will begin 90 days out, on the 19th of May 2005, through till race day. You can join at any time but the earlier you get started the faster and more satisfying your race day will be.

Our main group is located at New Farm Park, New Farm starting at 6 am sharp on Tuesday and Thursday. Extra groups are planned so see our website for latest session details and locations.


All Levels From Beginners To Advanced

Whether you have run for years or you haven't run a step, everyone is welcome. Where you start with your fitness level doesn't matter; it is improving on that level that is important.

After you get through the first few weeks and receive a few tips on running technique you will really start to enjoy running and you won't want to stop!

*** Your First Session/Fitness Screening Are Free - Come along and see if you like the group before joining.

You will be amazed at the changes you can make in under 80 days. Call us now on 1300 132 116 or e-mail info@outpace.com.au for a free information pack and to organise your free session / fitness assessment. www.outpace.com.au



20 Free Express Treatments:Thanks to The Skin Management Centre!

We are skin care therapists dedicated to achieving the ultimate in skin care. The Skin Management centre is a fresh approach to skin care, and our skin care therapist's know your skin inside and out. That's why we don't offer a prefabricated selection of services.
Armed with a thorough skin analysis and consultation, years of training and Dermalogica products, your skin care therapist will pinpoint exactly what your skin needs( and what it doesn't).Our therapeutic treatments focus on restoring you to your optimum skin health and total body wellness.
We create a sanctuary of health by combining a unique environment of relaxation, expert training in the world's latest techniques and the innovation of dermalogica products.
All of our services are designed to provide maximum results in a minimum of time. 30,45 and 60 minute treatments are available at fixed prices, providing many options for even the busiest schedules. All treatment durations are inclusive of consultation, skin analysis and a problem solving prescription.
Conveniently located on the ground floor of the TnG building in the Queen Street Mall. The Skin Management Centre have 20 FREE EXPRESS TREATMENTS to giveaway for the first 20 emails to skinmanagementcentre@bigpond.com or click here to visit their webpage.
Hypnosis & Physical Change:With John Suess!
One of the more challenging issues that a person can present to a hypnotist is a chronic, refractory condition like psoriasis, or ichthyosis (fish scale disease - which is supposed to be a genetic disorder) , or perhaps some other physical change like to enlarge the mammary glands (breasts) , or to just change the shape of a part of the body.

Such a request could seem to be beyond the capability of the mind even with hypnosis but all of the issues referred to above are on record as having been accomplished.

If a hypnotist is presented with a skin disorder one possible avenue for solution might involve the following.

After thoroughly hypnotizing the person and consolidating the response potential the person may be instructed to experience 'painless' sunburn of the skin and upon returning to apparent usual consciousness to retain the ability to modify the skin until the mind discovers how to cause the skin to function normally that is, without the continuance of the skin disorder. IT works!!

Hypnosis is a peculiar condition that occurs in a special relationship where critical analytic mind functions temporally shuts down and Fantasy becomes vastly more important and indistinguishable from reality. The mind becomes receptive to Fantasy as if it were actual experience and functions as if it were true.

John SUESS is a Master Hypnotist & trainer and Master Practitioner of NLP. He has been providing clinical services with hypnosis & NLP for 30 years. He has providing training in Hypnosis & Neuro Linguistic Programming for 26 years.

For further information please contact John by clickinghere or call 07 3397 7395.

Body & Beauty Retreat Medi Spa: Nurture Your Skin, Body and Spirit!
Body & Beauty Retreat Medi Spa have made a commitment to deliver the latest medically and scientific endorsed treatments, procedures, products and service in an environment designed to nurture your skin, body and sprit.

You will enjoy personalized services performed by highly skilled professionals. We are committed to delivering dramatic, aesthetic enhancement as well as unparalleled pampering and relaxation.

Other services available

Award winning Platinum Guinot Salon
M.D. Best Advice Skin Clinic

QLD Top Therapist

Cosmetic Dentist

Zoom teeth whitening

Cosmetic Doctor

Wrinkle correction

Dermal fillers

Omnilux revive red light therapy

LHE IPL permanent Hair removal

Photo rejuvenation

Acne Clearance

Cosmetic tattoo
CHECK OUT THESE GREAT OFFERS!
Buy one of our normal packages:
Getaway package $530.00 7 hours / receive a Surrender package value $132.00 free return
Retreat for Her $315.00 3.5 hours / receive a Massage & Hydrotherapy Bath package value $70.00
Retreat for Him $210.00 3 hours / receive a sauna and Hydrotherapy Bath package value $65.00
Refresh maternal feelings for Mum to be or new Mums 3 hours $210.00/ receive petite manicure or pedicure & spray tan Value $70.00
**GIFT VOUCHERS AVAILABLE**
CALL NOW ON 07 3262 0077 or email relax@bodynbeauty.com.au
www.bodynbeauty.com.au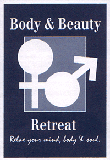 Select Organics:Wine,Beer, Spirits & Coffee!!
No longer is organics all about going without the good things in life. 'Going Organic' now means you can indulge in a glass of red, grab an 'organic' Bloody Mary or relax with a cup of tea and still feel guilt free about it while doing the planet and yourself a big favour!
Australia produces some of the best wine on the planet, therefore we only stock Australian wine. Our beers are from Australia and New Zealand. In fact the majority of the products we stock are Australian - we only make exceptions where the equivalent is not produced in Australia - the organic spirits for instance.
To help you, we have included information on each product (where appropriate) - the organic status, which body is responsible for the certification, the level of preservatives, where it comes from, if it is vegetarian/vegan friendly, what awards it has won, tasting notes and much more.
For a great Free gift when you purchase email : contact@selectorganics.com.au or visit www.selectorganics.com.au
Nourished.com.au:Natural Health, Wellness and Lifestyle!

Transform Your Love Life with Tantra By Oztantra.com
Most of us desire to have a satisfying and fulfilling sexual relationship. However, a great sex life is an elusive pursuit. For one thing, it depends on having an intimate partnership at all levels of our being. Sustaining a great relationship is the highest mountain to climb on this planet. It is not unusual that most people settle for far less than their ideal, but still claim to have a great sex life. What accounts for this paradox? Virtually everyone in our society, to a greater or lesser degree, has shame surrounding the subject of sex. more...
Brought to you by www.nourished.com.au
Short and Sweet: Cabbage Rejuvelac Recipe!
By Bee Wilder
A 1999 study published in the Lancet found that consumption of lacto-fermented vegetables was positvely associated with low rates of asthma, skin problems and autoimmune disorders in Swedish children attending a Wadorf school.1 One striking observation of ethnic cuisines is that rarely are meals eaten without at least one fermented food, often a drink.2 Cabbage is a vegetable that lends itself well to lacto-fermentation. It is teeming with lactobacteria. No starter is needed for making rejuvelac.

Start one morning by blending together 1-3/4 cups distilled or purified water plus 3 cups of coarsely chopped, loosely packed fresh cabbage. Start the blender at low speed and then advance the blender to high speed and blend for 30 more seconds. Pour into a jar, cover, and let stand at room temperature for 3 days. After 3 days strain off the liquid rejuvelac. The initial batch of cabbage rejuvelac takes 3 days to mature, but succeeding batches take 24 hours each. Each morning after straining off the fresh rejuvelac, blend together 1-1/2 cups of distilled or purified water plus 3 cups of coarsely ground, loosely packed fresh cabbage, for 30 seconds at high speed.

Pour it into a jar and add 1/4 cup of the fresh rejuvelac just strained off, cover, shake, and let it stand at room temperature until the next morning. Cabbage rejuvelac can also be made without using a blender. Just chop the cabbage very fine and use 2-1/2 cups replacing the 3 cups in the recipe above with the same amount of water.

Good quality rejuvelac tastes similar to a cross between carbonated water and the whey obtained when making yogurt. Bad quality rejuvelac has a much more putrid odour and taste and should not be consumed. Avoid using tap water because chlorine will interfere with the production of the bacteria. Boiling tap water for 30 minutes uncovered will remove chlorine.

Refrigerate rejuvelac if it is to be kept overnight. Discard any rejuvelac on hand 24 hours after it is poured off the cabbage.
Taking Rejuvelac - Drink each day's rejuvelac during the course of the day by taking 1/2 cup three times per day, preferably with meals.
To implant a healthy population of lactobacteria in the intestinal tract take rejuvelac for 1 to 3 months. The value of rejuvelac should not be confused with that of freeze-dried acidophilus. Rejuvelac contains live lactobacteria but freeze dried lactobacteria die in a few weeks' time.
People who have candida are very sensitive to yeast so they should make a new batch every time, but they could start 3 jars 3 days in a row so they do not run out.
Brought to you by www.nourished.com.au
Laughter is the best medicine!
What do you call a sheep with no legs? A cloud!
Doctor! I have a serious problem, I can never remember what i just said. When did you first notice this problem? What problem?
Quote of the month!

A great success is always the sum of many small decisions.
Win a Personal Training Package Thanks to Outpace Personal Training!
Win a Personal Training package thanks to Outpace Personal Training! Prize includes free membership to the running group plus three half hour one-on-one personal training sessions - Package valued at $265.
Outpace Personal Training provides individual, corporate, and group personal training sessions in the CBD & inner city suburbs of Brisbane. We design fitness programs that are realistic and easy to follow so you can make fitness and improved health a part of your busy lifestyle. Our staff can assist you to lose fat, tone up, build strength & muscle or achieve peak performance in your chosen sport. We will come to you or meet you at a number of convenient locations around Brisbane. For a great introductory offer clickhere
Don't forget that all subscribers to Naturally Happy are automatically included in all our giveaways- GOOD LUCK!
Click here for more details.
.
In the next issue of "Naturally Happy"
Katrinas Beauty Works!

Xtreme Fitness!

Mosaic Hair Body Skin Make-up!

Brisbane Personal trainers!

Camp Eden!

nourished.com.au!

Short and sweet!
My Health Specials provides this information for your personal education and enrichment. Information provided should not be used for diagnosing or treating a health problem or disease. Nor should the information replace the advice of your health care practitioner. Always seek professional advice if suffering an illness. My Health Specials Pty Ltd and all parties involved in the conception, production, ongoing maintenance and operation of Naturally Happy accept no liability and no responsibility for any damage whatsoever arising from or in connection to your use or operation of the website or information contained in this e-magazine.