earmate: Reduce mobile phone radiation by up to 98%
In October of this year, the influential Karolinska Institute in Sweden, in a World Health Organisation sponsored study, linked continual mobile phone usage with the growth of certain types of tumours.
earmate™, a new personal hands-free for mobile phones, offers a viable solution for consumers concerned about the possible immediate and long-term health effects of mobile phone use.
What Makes earmate™ Different?
earmate™, has no metal conductors to the head. It has a hollow tube that transmits sound from the microphone located a distance from the head, thereby keeping the source of the radiation away from the sensitive brain area. This design has enabled earmate™, to be independently proven to reduce electromagnetic radiation to the head by up to 98%.
Other features
Adjustable earbud gives a firm and comfortable fit

Tangle-free cable and airtube

On/off switch on microphone gives true hands free

Four stylish colours - red, blue, green and black

built from moulded opaque plastic

Crystal clear sound

significantly less radiation than conventional and Blue tooth headsets

Durable construction

6 month limited warranty
For more information about earmateTM, speak with your local mobile phone dealer, or visit www.earmate.com.au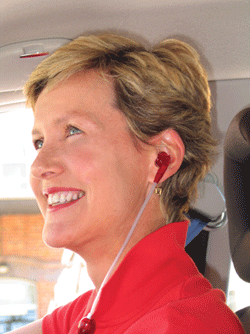 Somato Respiratory Integration:A Revolutionary Approach!

Somato Respiratory Integration is a revolutionary approach that includes specific exercises which link enhanced somatic awareness with respiration. It promotes the ability to focus attention on gross and subtle body movements and rhythms, self-directed breathing, awareness of one's tension, and verbal statements reflecting one's internal state.
Associated with these exercises are self-generated dynamic processes, which dissipate energy stored as tension, enhance structural flexibility, increase the experience of safety within the body, and demonstrate characteristic shifts in states of consciousness. With Somato Respiratory Integration you will discover how your inner perception and experience of the world determines to a great degree, who you are, your overall wellness, and the connection to yourself. SRI contributes to your expanding sense of wholeness.

The 12 Stages of Healing is a book we recommend written by Donald Epstein which consists of the following stages: . Suffering . Polarities and Rhythms . Stuck in a Perspective .Reclaiming our Power . Merging Preparation for Resolution. Resolution. Readiness in Emptiness. Light Behind the Form . Ascent . Decent . Community

Through the use of your own hands, directed movement, focused breathe, and certain well timed statements reflecting the inner state, your innate intelligence of your body naturally moves towards wisdom and balance, all this will help you to get to know your own vibrational story. It is an unparalleled tool for personal healing and empowerment.
To make an appointment to see Carol Kunowski please call 07 3890 0692 or click here
Elite Fitness:Great Christmas Specials!

ELITE FITNESS EQUIPMENT IS AUSTRALIA'S NO 1 FITNESS EQUIPMENT SPECIALISTS!
Through advanced technology and superior craftsmanship the Elite Fitness System delivers Aussie-made and U.S designed imported fitness equipment of the highest standard. Every product in the range is the result of on-going research and development and is designed around the users needs. Our commitment is without compromise, to provide un-equalled strength and cardio training equipment at Australia's most affordable prices. Our friendly professional staff will answer any of your fitness equipment questions and get you on track to better health.
For a location near you please click here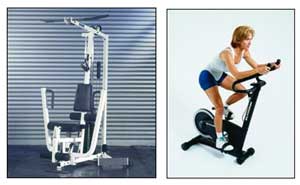 Give the gift of health and beauty: with myhealthspecials.com.au
Haven't found that 'Perfect Gift' yet?
You will find over 1000 Gift ideas for your family, friends and partners at www.myhealthspecials.com.au Indulge them in a day spa, massage or even invest in a gym membership. Simply click on one of our 80 categories, locate a business in your desired area and print off your 'Boarding pass to better health' -voucher. We guarantee you will save your hard earned dollars on all your Christmas shopping - and by giving the gift of health you will add to the quality of life of your friends and family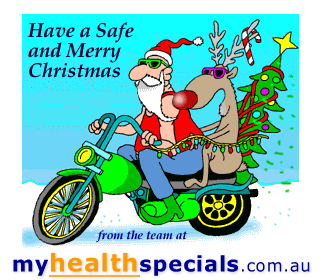 Naked Acoustic Tour:Steven Jaymes Hemingway's Cats Ticket Giveaway!

Exclusive Brisbane show at The Troubadour Fortitude Valley Wednesday the 1st of December.
To win the final 5 doubles to see Steven Jaymes perform his critically acclaimed Hemingway's Cats album simply email info@myhealthspecials.com.au - First in best dressed!
Catch Steven performing on Mornings with Kerry Anne at 9.40am(Qld time) Tuesday the 1/12 ( tomorrow)
Nourished.com.au:Natural Health, Wellness and Lifestyle!

The purpose of this article is to examine where and how we have learned to give our power away to others and thereby reduced our self-empowerment. Some of you reading this may exclaim to yourselves: Aha! I always knew that! Some of you may feel I've gone off the deep end with my assessment of how we are taught to disempower ourselves. If you find yourself resisting something you read here, I would like to suggest you read on. Chances are you have hit upon one of the ways your socialization and programming has disempowered you! more click here
Brought to you by www.nourished.com.au
Short and Sweet: Cornflake and Coconut Finger Serves!
Ingredients: 3 cups cornflakes (gluten free) 1 1/4 cups shredded coconut 1/2 cup castor sugar 125g Australian Butter, melted 2 tablespoons honey
Method:Combine cornflakes, coconut and sugar. Add combined butter and honey and combine well. Spread mixture into a lightly buttered 20cm x 25cm lamington pan and bake at 180°C for 20 minutes. Allow to cool before cutting into fingers. 3 cups cornflakes (gluten free) 1 1/4 cups shredded coconut 1/2 cup castor sugar 125g Australian Butter, melted 2 tablespoons honey cm lamington pan and bake at 180°C for 20 minutes.
Allow to cool before cutting into fingers.
Nutitional Analysis per serve Carbohydrates: 13 g Energy: 311 kJ Calcium: 9 mg Protein: 0.3 g Fat: 3 g
Brought to you by www.dairyaustralia.com.au
Laughter is the best medicine!
A man walks into a doctors office. He has a cucumber up his nose, a carrot in his left ear and a banana in his righ ear.
What's the matter with me? he asks the doctor.
The doctor replies, "You're not eating properly."
Quote of the month!

Know yourself well enough to be free from your own ideas!
Steven Jaymes
Win a total Body Recharge package thanks to Stephanies Natural Beauty and Day Spa!
Win a total Body Recharge package thanks to Stephanies Natural Beauty and Day Spa Valued at $230
Prize includes a Dry body brushing, a body wrap, Vichy shower and 60-min body massage.
Stephanies natural beauty and day spa

Open the doors to a sanctuary of wellbeing and relaxation. Whether you wish to escape for an hour or half a day, Stephanies is a harmonious urban day spa where you can feel truly cared for. Velvety rose petals, abundant fresh flowers, scented candles, and aromatic essential oils immediately soothe the soul. Let tranquillity submerge you. Gently slow down, to the humming sound of soft music, and let us nurture you, body and soul.
Don't forget that all subscribers to Naturally Happy are automatically included in all our giveaways- GOOD LUCK!
Click here for more details.
.
In the next issue of "Naturally Happy"
My Health Specials provides this information for your personal education and enrichment. Information provided should not be used for diagnosing or treating a health problem or disease. Nor should the information replace the advice of your health care practitioner. Always seek professional advice if suffering an illness. My Health Specials Pty Ltd and all parties involved in the conception, production, ongoing maintenance and operation of Naturally Happy accept no liability and no responsibility for any damage whatsoever arising from or in connection to your use or operation of the website or information contained in this e-magazine.