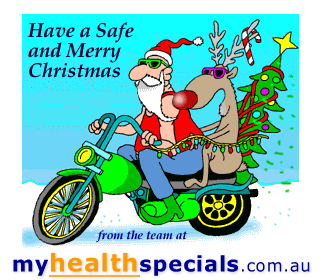 Quantum Physiques:Lean without Burning Fat!

It seems amazing that mankind has developed technologies to cook without heat, communicate without wires and store libraries full of information on the head of a pin yet we are completely lost on how to burn our own fat. Fat is not complex stuff. The problem is that everyone is asking the wrong questions.
Fat is only one side of a very simple equation. It is 'inactive' tissue making up part of our body. 'Lean mass' is everything else. Lean mass includes all of the 'active' tissues of the body: skeleton, major organs, brain and muscles. Lean mass is mostly muscle.
Obesity has been defined as 'bodyfat levels greater than 30% of bodyweight'. But we can also define obesity as 'lean mass LESS than 70% of bodyweight'. Both mean exactly the same thing but the latter shifts our focus to the relevant, active, healthy tissues.
The concept of 'burning' fat is an anomaly. If we want to have relatively less fat then we are saying that we want relatively more muscle. This is just basic math. Many people panic at the thought of having 'muscles' but contradictorily want to be 'lean'. 'Muscles' don't mean looking like a professional bodybuilder. Muscles are the only thing covering your skeleton when you have low fat.
The answer is simpler than you could imagine. Food determines your weight. Strength determines your lean mass. Fat is just the difference in between. If you want less fat, then eat less BUT work to maintain or increase your muscular strength. Alternatively you can eat the same and just work to get stronger. Either way, forget 'burning fat'. Your body will take care of that anyway.
So the question then is how to best manipulate your strength? Cardiovascular exercise only makes you stronger when you have to carry around your own excess fat. Weights are the real key. But that's another article. Or for a faster answer, call Quantum Physiques on 3252 2100. Simply follow our plan and achieve your goals and we will give you 25% cash back. Conditions apply so visit us or call for further details. Email damon@quantumphysiques.com.au or Visit us at 29/25 James Street Fortitude Valley or online www.quantumphysiques.com.au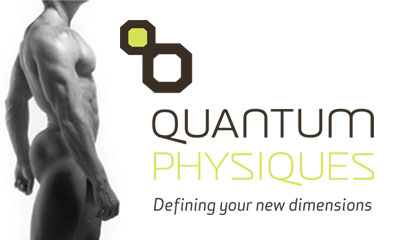 KickBike:Arguably the Best Aerobic Workout Available!
Developed as a cross-training device for elite Nordic athletes 9 years ago, its fusion of acute performance and European style encourages easy transition from gentle broad-walk gliding, to a low impact, full-on total body, aerobic workout. It's about spirited people, a funky motion and a liberating sensation.
Even if your workout is the gentle broad-walk stroll, you can still expect to stretch your hamstring, strengthen and tone your quadriceps and calf muscles, as well as trim down and firm up your thighs and buttocks! You will also strengthen your diagonal lower abdominals, lower back and shoulders. Not bad results from just having a bit of fun.

KICKBIKING, generates a low impact foot strike, as your body weight is principally supported by the stationary leg. This significantly reduces shock to the knees and lower extremities. Injury prevention is further enhanced by not fixing you to a specific position, which reduces muscle stiffness, strain and the chance of injury. All you need to do is remember to change legs regularly.

So the Kickbike will give you all the benefits of running without the high impact that causes most injuries. In fact because of the low impact, and the targeted muscle groups, it gives athletes the chance to start training a lot earlier in their rehabilitation process.

Alternatively if you increase the pace for twenty minutes at good Kickbike pace, you will get all the above body benefits as well as an aerobic workout equal to an hours cycling.

So forgo the nip and tuck, and kick your butt into shape on a KICKBIKE. It's the simplest, safest and most enjoyable way to reduce fat and/or improve your fitness!

Visit www.kickbike.com.au or for more information contact Bruce Cook on Ph 1300 854257- Mobile 0407 699884 - email bruce@kickbike.com.au
Health warning: Side effects include toned legs, pert buttocks and a sense of wellbeing. Please moderate usage.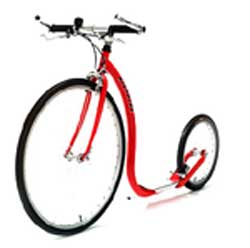 Beyond Beauty Gift Vouchers: Spoil and Pamper your loved ones..
Give something special to that someone special with a beautifully packaged Beyond Beauty Gift Voucher.
With two convenient locations, Beyond Beauty are full service beauty salons, offering nurturing spa treatments, body and skin consultations and treatments utilising professional staff and the best in product ranges. The Aspley salon also offers an unparalleled array of hair services.

ASPLEY
Beyond Beauty Aspley is a full service AVEDA concept hair salon. Our enthusiastic, professional hair salon team work to create for you the latest styles at Beyond Beauty. We believe your hair should complement your lifestyle. Nothing can make you more attractive than beautiful healthy hair and a style which is truly you!
Why Aveda?
Each member of our Team is passionate about what they do but also about the world we live in, our environment and about being healthy. AVEDA allows us to follow our beliefs and passions in the beauty industry and yet maintain responsibility to our world and know that through our success we are not damaging the earth for future generations.
Every AVEDA product is derived from pure plant and flower essences by uniting traditional, natural principles with the latest research to meet your hair, skin, body and purefumes™ needs. Obligation FREE consultations available by appointment. First design cut and blow dry half price.

FERNY HILLS
Beyond Beauty Ferny Hills is a full service beauty salon offering nurturing spa treatments with unparalleled service, using a wide range of products to ensure visible results.
We offer three product ranges, CLARINS, THALGO and MD FORMULATIONS, each chosen with care to focus on the clients specific concerns. Generous packs and specials are offered from time to time. It is with confidence we can say we offer- the purest products, the nicest people, and the highest level of service at Beyond Beauty.
Spa Packages
Radiance for special occasions doesn't happen by chance, but rather by careful planning of diet, exercise, skin and body maintenance. Let us help you look radiant and be well-organised for those special occasions in your life.

Our team is happy to offer you a choice of gift selections that will be remembered forever....
We will accept your credit card payment over the phone and the voucher can be sent out on your behalf in the mail or by courier. Email aspley@beyondbeauty.com.au or call Aspley 07 3263 9915 or call Ferny Hills 07 3851 1696. www.beyondbeauty.com.au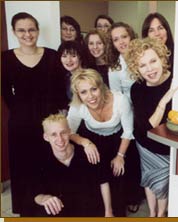 Give the gift of health and beauty: myhealthspecials.com.au
Haven't found that 'Perfect Gift' yet?
You will find over 1000 Gift ideas for your family, friends and partners at www.myhealthspecials.com.au Indulge them in a day spa, massage or even invest in a gym membership.
Great businesses such as, Mosaic Hair Body Makeup, Absolute Skin and Body, The Dome Retreat, Stephanies Beauty The Skin Management Centre . Elite Fitness, to name a few.
By giving the gift of health and beauty you will add to the quality of life of your friends and family!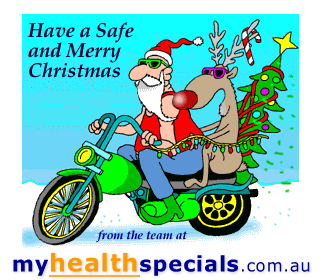 Naturally Happy Sponsor: Meditiate Deeper than a Zen Monk!
.
Health Buzz: The latest news on all things good for you!

Dynamic duo for blood vessels
Researchers have reported that a combination of antioxidants and the amino acid L-arginine may protect the body's blood vessels from inflammation and plaque build-up, which are both major contributing factors to atherosclerosis (hardening of the arteries). Basically, researchers used a culture dish test to expose human cells to a variety of fluid flow forces (mimicking the wear and tear that affects blood vessels over time). They then found that fewer inflammatory compounds were produced when the cells were coated with L-arginine and antioxidants. This combination was also observed to cause the cells to produce an enzyme known as eNOS (endothelial nitric oxide synthase), which enables blood vessels to expand and reduces the incidence of blood clotting.
Brought to you by www.mindandbody.com.au
Short and Sweet: Festive Ice Cream Ring!
Festive Ice Cream Ring Serves: 8
Ingredients: 600ml Australian Cream 1 x 395g can Australian Condensed Milk 2 teaspoons vanilla extract 1/3 cup pureed raspberries or strawberries 1 tablespoon cherry brandy or port 2 tablespoons creme de menthe liqueur 1/4 cup shelled pistachio nuts, chopped 1/4 cup glace cherries, chopped 1/4 cup desiccated coconut 1 punnet fresh raspberries, for serving
Method: 1. Combine cream, condensed milk and vanilla in a bowl and beat with an electric mixer until mixture has doubled in size and is thick and creamy. 2. Divide the mixture into two. Add the pureed raspberries and cherry brandy to one half and the creme de menthe, pistachios, cherries and coconut to the other. 3. Pour the raspberry mixture into a wetted 1 litre or 20 cm ring tin. Top with the creme de menthe mixture and freeze until firm. Unmould and fill the centre with raspberries prior to serving. All recipes tested using standard 250 ml cup and 20 ml tablespoon.
Brought to you by www.dairycorp.com.au
Laughter is the best medicine!
Why shouldn't you tell a secret around a clock?
Because time will tell.
Quote of the month!

"Tomorrow is the most important thing in life. Comes into us at midnight very clean. It's perfect when it arrives and it puts itself in our hands. It hopes we've learned something from yesterday"
John Wayne (1907 - 1979)
Win 1 of 10 Lean & Clean CDroms
Congratulations to William Hills from Everton Park for winning the Bio Magnetic Therapy pack.
Our next promotion gives 10 lucky winners a Lean & Clean CDrom valued at $34.95.
Lifestyle Interacive and Pro Natural Mr Universe introduce "Lean & Clean", an interactive CDrom fitness experience combining the ultimate guide to today's fitness and bodybuilding information with 17 years of trade secrets from one of the world's most accomplished personal trainers and bodybuilders.

This revolutionary CDrom has more than 500 pages of essential information including Diet, Exercises, Preparation, Recipes, Travel, and much more

"Lean & Clean" takes the form of a 16-week natural body transformation. It illustrates the results achievable by using the techniques shown throughout the CD.
This great product is endorsed by Musashi.

Prize drawn Feb 15th!
Don't forget that all subscribers to Naturally Happy are automatically included in all our giveaways- GOOD LUCK!
Click here for more details.
.
In the next issue of "Naturally Happy"
My Health Specials provides this information for your personal education and enrichment. Information provided should not be used for diagnosing or treating a health problem or disease. Nor should the information replace the advice of your health care practitioner. Always seek professional advice if suffering an illness. My Health Specials Pty Ltd and all parties involved in the conception, production, ongoing maintenance and operation of Naturally Happy accept no liability and no responsibility for any damage whatsoever arising from or in connection to your use or operation of the website or information contained in this e-magazine.