Dr Sandra Cabot: Your health in your hands - BOOK NOW

Speaker:

Dr Sandra Cabot

Topic: "Your Health In Your Hands"
Covering - Weight Loss, Hormones, Menopause & Fibromyalgia.
Date: Tuesday 11th March Time: 7.30pm
Venue: Morton Bay College Oriel Handley Hall 450 Wondall Rd, Manly West
Door Prizes: Massage Vouchers, Sandra Cabot Books

.
Tickets to this fantastic event are only $20 or $15 with 5 or more people.
For further enquiries click here or call 07 3821 7300 and mention myhealthspecials when booking.
Healing Days: Spring Hill Homeopathic and Natural Therapies Clinic
Your good health depends on maintaining a balance between your body's structure, its biochemistry and your emotional and mental outlook.
Our clinic's aim is to provide you with the best possible health care using a broad range of natural, complementary therapies, which may not solely rely on one branch of treatment.
Our clinic offers a warm, friendly and nurturing environment and the strong belief in our experience and service allows us to offer you a money back guarantee.
All of our skilled practitioners are tertiary qualified, members of their relevant associations and registered with the private health funds allowing for rebates to be claimed by you if available.
Our practitioners aim to find the cause of your illness or discomfort, and work with you to remove your complaint while improving your body's immune system and identify preventative measures to bring your body, mind and energies into balance.
Natural therapies are recommended to work in conjunction with traditional medical treatments being undertaken to help combat the side effects experienced with medications, expedite recovery after operations and injuries, and to support the immune system in all cases.
We achieve this using Naturopathy, a diverse and flexible treatment which may include herbs, flower essences, diet, nutritional supplements and lifestyle changes; Homeopathy, an extremely safe and effective system of medicine is suitable for the successful treatment of babies thru to adults for both chronic & acute disease states; Remedial & Sports Injury Massage which uses hands on mobilisation of muscles and other soft tissues of the body; and Kinesiology, which combines muscle monitoring with the principles of Chinese medicine.
Feel the zest for life again, increase your energy, return to harmony and happiness, and stop being sick and aching.
Healing Days
A great way of introducing yourself to the variety of alternative treatments is to join us on one of our Healing Days. At these sessions you experience 5 different forms of alternative therapies (including massage, iridology and homeopathy, to name a few that are available) in a total of 21/2 hours. These are not individual consultations but to broaden your options on alternative forms of treatments.
During the half hour spent with each individual, fully qualified practitioner you are given an insight into their particular methods used, what is expected of yourselves, and the therapies offered to assist you back to optimum health.
If you would like to introduce someone, whom you feel would benefit, to natural therapies this would be the ideal stepping stone over the stumbling block of "which therapy would suit me best?".
Why not give a gift voucher with a difference to a loved one, family or friend - the gift of health. A variety of gift vouchers are available, for the introductory Healing day or for an individual therapy, tailored to your specifications. Eftpos & Major Credit Card facilities are available as well as on site parking.
For further help including free information brochures, appointments, or gift vouchers please call Renee direct on 07 3839 5599. or click here.

You've heard of Boot Camp : now try Basic Training with Fit2perform
Basic Training
Are you up to the challenge?
What is involved? This 6 week outdoor group-training program combines all the necessary elements (cardiovascular, strength and flexibility) together in a "play hard" format. You may use it as a supplement to other activities such as cycling, running, weight training or yoga. These intensive 60-minute sessions include running (for some that may be walking at first), stretching, agility, balance and strengthening exercises. It is a progressive fitness program that is designed for the fit and the "wanna-be" fit. It will be challenging. You will play hard. You will have a blast! Basic Training schedule "Camp Southbank" - Meeting each Tuesday & Friday mornings at 0600 hours starting from March 4. Cost: $240
What we offer:
Session types
60 minutes - $60 (1 person) $80 ( 2 people)
30 minutes - $40 (1 person) $60 ( 2 people)
Group training: $35 per person.
*Ask about our bulk packages to receive a discount on these prices.
*Fit 2 Perform Gold Pack $1400 24 x 1 hour sessions (single person), A1 Polar heart rate monitor, Fit 2 Perform training T-shirt, socks and water bottle. This represents a serious commitment to your training and so we give you a serious discount.
Acupuncture and Massage $66 per 1 hour
To find out more about fit2perform click here or call Jeff direct on 0414 756 722
Thors Gym and Fitness Centre : Working bodies since 1981!
Are you looking to start a fitness program but not sure what to expect or which gym to join? Why not drop in or give is a call and we will show you how to feel more fit and healthy, how exercise can help with stress management and how to change your body shape whether it be weight loss or weight gain. We have been helping people to achieve their goals since 1981.

THORS GYM AND FITNESS CENTRE has services and equipment including:
For further details on Thors click here or call Jim direct on 07 3844 5766
Getting Fit and Healthy on-line: with Autralian Unity's Wellplan
A busy, modern lifestyle is all about juggling the different areas of your life. Your health and wellbeing can suffer, which is why Australian Unity created Wellplan.
Wellplan is a series of preventive health programs designed to help you achieve and maintain better health. Simply by becoming an Australian Unity Health Insurance member, you will gain access to Wellplan Online, incorporating System Stanley - an Internet delivered health and wellbeing program, developed by Sue Stanley, three-time world Aerobic Champion and 2000 Ms Fitness World Champion.
Wellplan Online provides personalised information on Wellbeing, Nutrition and Fitness: " Wellbeing It's important for people to find a balance between work, family and recreation time. Wellplan Online shows how you can benefit from relaxation techniques such as aromatherapy, yoga, body care and more. "
Nutrition Wellplan Online has a range of features which provide personalised advice for healthier eating. You'll also have access to Sue Stanley's Cookbook with over 1000 healthy and delicious recipes. " Fitness Incorporating a Weight Room, with over 25 workouts; a Stretch Room, with over 85 individual stretch programs; and a Cardio Room with over 75 cardio-vascular activities, Wellplan Online includes all the tools and information you need to develop your own exercise program. Best of all, you can use Wellplan Online anytime that suits you.
All the great features and information are available whenever you need them, at home or at work. So all you need to do is log on and enjoy the many benefits of Wellplan Online. To find out more, call 3214 7802 today.or visit www.australian unity.com.au. Australian Unity Health Limited ABN 13 078 722 568 is a Registered Health Benefits Organisation.
To find out more about Australian Unity Health Insurance and the Wellplan click here or call Belinda or Wendy direct on 07 3214 7802.

Naturally Happy Sponsors: Health and Lifestyle links!
www.bodywise.com.au
www.badbacks.com.au
www.mba-distance-learning.com
www.gal.com.au
www.saratoga.com.au
www.holysnc.com.au
Health Buzz: The latest news on all things good for you!

Brought to you by www.mindandbody.com.au
Blue chip berries
Why these fruits are a good investment for your health? Whether you put them in muffins, pancakes, jam or just eat them fresh, berries are a treat for the taste buds. But these tasty fruits offer a lot more than just flavour, they're also good for your health ina number of ways.
Raspberry
The leaf of the raspberry plant has traditionally been taken by pregnant women during the third trimester and breast-feeding. Raspberry leaf assists in childbirth and helps maintain the healthy production of breast milk. And now it also appears that the actual berries may offer their own health benefits. A recent US study has observed that black raspberries may play a role in helping to reduce the risk of colon cancer. In the study it was observed that rats fed on a high berry diet had 80 per cent fewer malignant tumours than rats whose diet did not include any berries.
Cranberry
Cranberries are perhaps the most well-known berries for their therapeutic benefits. They help to relieve cystitis pain and help prevent the bacteria that cause it from adhering to the bladder wall. As well as relieving the discomfort of this common urinary tract infection, cranberries also mask urinary odours, which makes them a sensible choice for incontinence sufferers. Cranberries are an acquired taste, which is why many people prefer the convenience of a high potency supplement.
Brought to you by www.mindandbody.com.au
Short and Sweet: Creamy Vegetable and Rice Slice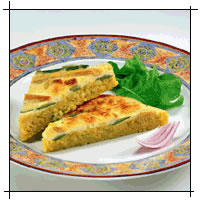 Serves : 6
Ingredients : 2 teaspoons curry powder 1 cup long grain rice 4 cups water 2 eggs, lightly beaten 20g Australian Unsalted Butter 1 tablespoon plain flour 1 1/2 cups Australian Reduced Fat Milk 1/4 cup grated Australian Reduced Fat Cheddar Cheese cracked black pepper, to taste 2 zucchini, diced 150g frozen beans, thawed 1 x 425g can whole baby corn, drained paprika, for sprinkling
Method : Heat curry in a saucepan and add the rice, stirring until rice is coated. Add water, cover and simmer for 25 minutes or until all liquid has been absorbed. Allow to cool. Stir in half the egg and spread mixture over a grease-proof paper lined baking dish. Bake at 180øC for 10 minutes. Melt butter in a saucepan, add the flour and cook stirring for 1 minute. Add the milk and stir until thickened. Remove from heat and fold through remaining ingredients. Pour mixture over base, sprinkle with paprika and bake at 180øC for 50 minutes or until set. Slice and serve.;
**This recipe is suitable for lacto-ovo vegetarians who have adopted a vegetarian diet for health reasons. Nutritional Analysis per serve Serves : 6 Carbohydrates : 34 g Energy : 1016 kJ Calcium : 165 mg Protein : 10 g Iron : mg Fat : 7 g --------------------------------------------------------------------------------
Laughter is the best medicine!

Learing about a dinosaur alive in the rain forests of South America, a professor launches a scientific expedition. After several weeks he stumbles upon a little man wearing a loincloth, standing near a 300-foot-long dead dinosaur. The scientist can't believe his eyes. "Did you kill this dinosaur?" he asks. "Yep," replies the rain-forest native. "But it's so big and you're so small! How did you kill it?" "With my club," the primitive fellow answered. "How big is your club?" "Well, there are about 100 of us."
Quote of the month!

"Don't wait. The time will never be just right".
Napoleon Hill
Win a $400 voucher thanks to Natural Alternative Health Food stores.
Congatulations to Sarah from Paddington who won our Golden Door giveaway! This month thanks to Natural Alternative Health Food Stores one lucky winner will be able to stock up on their health requirements to the value of $400! Choose from over 5000 products of natural health, fitness and beauty products with famous brands like Natures Own, Bio-Organic and Natural Nutrition. You'll find over 20 Natural Alternative locations around Queensland for your total convenience.
Don't forget that all subscribers to Naturally Happy are automatically included in all our giveaways- GOOD LUCK!
Click here for more details.
In the next issue of "Naturally Happy special double issue in March!
Natural Fertility

Vegesorb

Holistic Dentisty

Inner talk

Health Buzz

Short and sweet!





My Health Specials provides this information for your personal education and enrichment. Information provided should not be used for diagnosing or treating a health problem or disease. Nor should the information replace the advice of your health care practitioner. Always seek professional advice if suffering an illness.