Get a new life in time for Xmas:Renowned 'Change Management Specialist' PERRY MARDON!


CHANGE to a happier, healthier life.
Renowned 'Change Management Specialist' Perry Mardon uses his special gifts to help you develop fulfilling relationships, dramatically improve your financial position, achieve great health and embody emotional peace. He is visiting Brisbane this month for two life changing seminars so that you too can open your channels of intuition, and create success! (Maximum 30 people per workshop)
Perry is a master intuitive, businessman, sportsman and father. He can help you access and develop intuition also teach you HOW to 'create', which will improve your relationships and profits.
Seminar 1: Intuition (1-day workshop, Saturday 30 November 2002)
Find out how to:
access intuition

interpret your 'life path' using intuition

develop intuitive skills to create prosperity

make successful decisions without having all the facts

predict the success of a venture / relationship that you are about to get involved in

read people and find out the truth

turn your gut feelings into profit

use intuition for hiring the best staff

access power hunches which will direct you to success and add to your bottom line.
Seminar 2: How to 'Create' Success –( 1 day workshop, Saturday 7 December 2002)
Most people stumble through life, haphazardly achieving results in some areas and failing in others. Perry's unique creative process allows you to choose EXACTLY what you want and shows you how to go out and create it… in any area of your life.
Find out how to:
establish a clear purpose and direction for your life

create the life you really want, regardless of your present circumstances

feel fulfilled (find out what stops you from getting what you want)

create lasting good health (in body, mind & spirit)

create great relationships

increase your business profit and the 'bottom line'

create success from the heart (find out why the heart is the power creator)
Each 8 hour seminar provides individual attention (maximum 30 people), morning and afternoon tea, comprehensive workbook, and free Perry Mardon CD.
Cost per workshop $250 inc. GST, or $399 for both.
BOOK NOW. Freecall 1800 888 406 or
email admin@freedomtechnology.net
Youthealth: a cartoon cure for humdrum health ed.

Children's health education has changed its toon, transforming its image from goodie goodie, to fun and proactive! That's the official word from thousands of parents and media savvy youngsters who are clicking on to the new and vibrant, multi-award winning website - www.youthealth.com (as seen on The Today Show and Brisbane Extra).
Devised by a leading paediatrician and a team of animators, Youthealth.com informs kids about general health and fitness by combining dynamic animated content with information and activities.
"While there is a lot of information available on the web about children's health, it's all directed at parents and health professionals, not children," says Dr Russell Viner, one of the four brothers who created Youthealth.com.
And he should know - Russell is a specialist paediatrician and adolescent physician employed at Britain's leading children's hospital, Great Ormond Street. He has also worked as a consultant to the World Health Organisation.
Youthealth.com aims to teach kids basic anatomy and physiology as well as providing answers to parent-perplexing questions such as "What is a hiccup?" These questions are explained via the Inner Explorers Series, an animated web series for kids which is complemented by a unique range of online teaching resources and interactive activities.
The world-class educational animations featured on Youthealth.com are produced by Liquid Animation, an Australian company which recently secured a contract with Disney in addition to winning a Golden Pixie Award for web animation. "This is the future of web delivered animation" Animation Magazine (US) Jan 2001
Join Youthealth.com on an empowering journey of discovery into health and the human body and help foster healthy bodies and a healthier attitude to utilising the Internet as an educational tool.
For a media pack contact: Michael Burke or Diana Keogh at Liquid Animation on (07) 3010 7700 or visit Youthealth.com.

Give the gift of health and beauty this Xmas : Hundreds of great gift Ideas!
Thought about Xmas gifts yet? You will find over 700 Gift Voucher ideas for your family, friends and partners at www.myhealthspecials.com.au
Indulge them in a day spa, massage or even invest in a gym membership. Simply click on one of our 80 categories, locate a business in your desired area and print off your money saving voucher. We guarantee you will save your hard earned dollars on all your Xmas shopping - and by giving the gift of health you will add to the quality of life of your friends and family.
Click here for GREAT gift ideas!

Counsellors and natural therapists wanted: an ideal place to practice.
Due to an increasing client demand, we would like to talk to experienced therapists who may be interested in joining the team of counsellors and natural therapists at Indigo House counselling, education & natural therapies
Indigo house is a holistic health centre situated in a prime location in the heart of New Farm. Established two years ago, it has grown to become a well recognised part of the New Farm community as well as being a highly regarded provider of training and professional development in the human services field.
These positions would particularly suit experienced practitioners with an established client base wishing to expand their practice alongside complementary practitioners. Fully furnished rooms are available for rent on a sessional or daily basis at reasonable rates. (Rates include a full reception service & eftpos facilities.)
A fully equipped group/training room is also available. This room is ideal for groups of twenty or less and comes with OHP, TV/VCR, whiteboard and access to a fully equipped kitchen.
Merthyr Village is 1 minute's walk away with easy access to bus stops, taxis, shops, cafes and restaurants.
For further information contact Alison Lees on 3358 1311or 0408 581 311 info@indigohouse.com.au www.indigohouse.com.au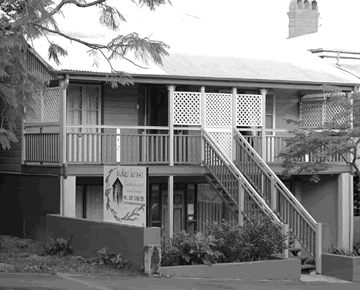 Harmony Health Cover: Significant savings on natural therapies!

GREAT NEWS FOR NATURAL THERAPY USERS
Here's how to claim the maximum amount back from your natural therapy consultations.

Harmony Natural Therapies Cover is a special extras cover from Australian Unity, which takes a holistic approach to your health. It helps you maintain your body from head to toe, inside and out, with a wide range of services balancing natural therapies and conventional treatments.
Value
Harmony Natural Therapies Cover provides real value for money. It's the right choice if you want an extensive selection of services and providers, without paying an arm and a leg. As an extras cover, it offers rebates on services that are not covered by Medicare or associated with a hospital admission. You can take out Harmony separately or combine it with one of our hospital tables to get the most comprehensive cover.
The Range
Harmony covers a huge range of complementary treatments that benefit the total you. These therapies can be used to address a particular health concern or as preventative care to help improve your health and wellbeing. Plus, you'll benefit from a $25 rebate per consultation for the following: Naturopathy Aromatherapy Homoeopathy Acupuncture Herbalism Chiropractic Traditional Chinese Medicine Osteopathy Remedial Massage Reflexology Shiatsu Iridology Myotherapy Bowen Therapy Dietetics Alexander Technique
Harmony also looks after you with cover for physiotherapy and speech, eye and occupational therapies. Australian Unity is committed to offering you the best preventive health care services, for a minimum investment.
Add some "Harmony" in your life, and save money - naturally!
Click Here to find out more

Fitness Questions?: Kerrie Blumson has your answers!

Q. From Melody: I need to tone up and lose some flab. How often a week would I need to exercise to do so?
Hi Melody,
For most people, the old saying 'Eat less, move more', is the answer to losing the flab. Sensible nutrition and sensible exercise that fits in with your lifestyle will give you the best results over the long term. Walking if you are currently inactive is a good start. Aim for 3 times per week for a min of 20-30 mins. or the first few weeks to allow yourself time to adjust and to get into the habit of allocating exercise time in your life. Then, you can start challenging yourself by increasing the duration of your walks and/or making them more challenging by increasing speed and including some hills. Strength training is the quickest and most effective for toning muscles. Once or twice a week is all you need for 15 - 30 mins (no you won't get huge muscles and look like a bloke!) All of my ladies do it and it works. The stronger you are and the fitter you are, the higher your metabolism and the more fat you burn each day. Controlling your weight is a whole lot easier. Good Luck! Kerrie
Ask Kerrie a question by clicking here
Click here to visit Fernwood Womens Health Club -Toowong.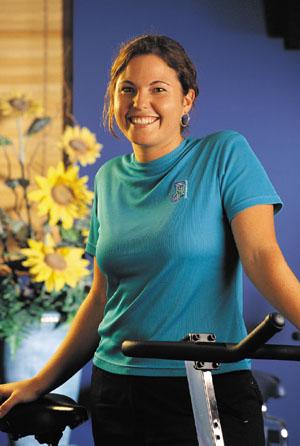 Health Buzz: The latest news on all things good for you!

Brought to you by www.mindandbody.com.au
Germany puts on a happy face with Hypericum
Need a reason to smile? How about 66 million of them? According to recent figures that's how many prescriptions are written yearly in Germany for the anti-depression herb hypericum (also know as St John's wort). German doctors – and their patients – are so happy with the results they're getting from hypericum that they've made it the most popular first line treatment for mild to moderate depression.
Don't get mad, get Vitex
Hot off the press at the British Medical Journal is news of a trial that shows vitex agnus castus is "an effective and well tolerated treatment" for the relief of the symptoms of premenstrual syndrome. Results from the placebo controlled trial published in January 2001 revealed that symptoms including irritability, mood swings, anger, headache and breast soreness were all significantly reduced by taking an extract of the vitex herb. DVT, see your healthcare professional.
Brought to you by www.mindandbody.com.au
Short and Sweet:Stone Fruit Trifles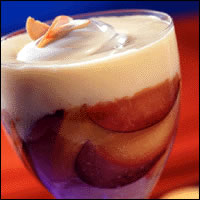 8 Ingredients :
1 kg stone fruit (peaches, apricots, plums), cut into wedges 1/4-1/2 teaspoon Angostura bitters 1/4 cup castor sugar 1/4 cup custard powder 3 cups Australian Skim Milk 2 teaspoons vanilla essense 2 egg whites, beaten to soft peaks 200g pre-made sponge, cut into cubes 2-3 tablespoons Galliano liqueur or sherry 1 cup Australian Greek-style Yogurt 1 tablespoon flaked almonds, toasted
Method : Simmer fruit, 1/2 cup water and bitters until tender. Remove fruit, add half the sugar and boil for 1 minute. Cool. Mix custard powder and a little milk in a saucepan until smooth. Add remaining milk, sugar and vanilla and cook, stirring until thickened. Cool. Fold in egg white. Layer cake, syrup, liqueur, fruit and custard into a large dish. Top with yogurt and almonds. Refrigerate 2 hours and serve.;
**This recipe is suitable for lacto-ovo vegetarians who have adopted a vegetarian diet for health reasons. Nutritional Analysis per serve Serves : 8 Carbohydrates : 41 g Energy : 926 kJ Calcium : 185 mg Protein : 9 g Iron : 1 mg Fat : 2 g
Laughter is the best medicine!

C.E.O. D.U.M.B
One day a secretary is leaving on her lunch break, and she notices her boss standing in front of a shredder with a clueless look on his face. The secretary walks up to him and asks if he needs help. "Yes!" he says looking and sounding relieved, "This is very important." Glad to help, she turns the shredder on and inserts the paper. Then her boss says, "Thanks, I only need one copy
Quote of the month!

"I have never been hurt by anything I didn't say"
Calvin Coolidge
Win a Healthy Life Gift Voucher in time for Xmas! Valued at $400.
On December the 22nd one lucky subscriber will win a gift voucher to the value of $400 thanks to Healthy Life. With over 10 stores in South East Qld Healthy Life are the perfect spot for Healthy Xmas gift ideas! Don't forget that all subscribers to Naturally Happy are automatically included in all our giveaways- GOOD LUCK!
Click here for more details.
In the next issue of "Naturally Happy"
My Health Specials provides this information for your personal education and enrichment. Information provided should not be used for diagnosing or treating a health problem or disease. Nor should the information replace the advice of your health care practitioner. Always seek professional advice if suffering an illness.