Day Spas - the ultimate experience!
Now you can enjoy the spa lifestyle close to home and on the road, any time when your mind, body and spirit demand to be nurtured, pampered, rejuvenated, refreshed, or recharged.
These days they may be stand-alone facilities, part of a bustling 5 star hotel, connected to a health club, allied with a one-stop wellness centre or an adjunct to a Natural Health Clinic.
The 21 st Century Day Spas provide a wide range of services that include treatments such as, Vichy showers, Body Scrubs, Specialised Skin Treatments, and a huge variety of massage styles. Each Day Spa is unique, with many using World Class products and practising excellence in service and professionalism. Whether it be a 1 hour session or a half or full day of pampering, most Day Spas can tailor a beautiful experience for you everytime. They're also a great gift idea!
To take advantage of a great introductory offer at a Day Spa closest to you click here


Personal Training: tailored for you!

Workout from home, your office, your gym or in the great outdoors, where ever it maybe Personal Training could be the answer to all your health problems.
The majority of people need a motivating factor and a Personal Trainer is the key. The point of difference is through personalised programs to suit your health and fitness needs. Your trainer gives you guidance and motivation so you can attain your goals so you can have the health and fitness you need to make positive things happen in your life including longevity. There are many ways of utilising PT such as working out in either small or large groups where you can save considerable amounts of money on your training. Health and Fitness Centres are also now equipped with PT, allowing you to have one on one attention at your local gym. Some gyms include start-up PT or you can include PT into your workouts as part of your membership.
* Health Image Personal-training OPEN DAY this Saturday the 28th! Free lunch, massage demo and $2000 in prizes. 973 Stanley St East Brisbane 3393 2662 or click here
For a great introductory offer with your local Personal Trainer click here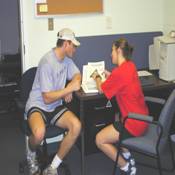 Harmony Health Cover: Significant savings on natural therapies!

GREAT NEWS FOR NATURAL THERAPY USERS
Here's how to claim the maximum amount back from your natural therapy consultations.

Harmony Natural Therapies Cover is a special extras cover from Australian Unity, which takes a holistic approach to your health. It helps you maintain your body from head to toe, inside and out, with a wide range of services balancing natural therapies and conventional treatments.
Value
Harmony Natural Therapies Cover provides real value for money. It's the right choice if you want an extensive selection of services and providers, without paying an arm and a leg. As an extras cover, it offers rebates on services that are not covered by Medicare or associated with a hospital admission. You can take out Harmony separately or combine it with one of our hospital tables to get the most comprehensive cover.
The Range
Harmony covers a huge range of complementary treatments that benefit the total you. These therapies can be used to address a particular health concern or as preventative care to help improve your health and wellbeing. Plus, you'll benefit from a $25 rebate per consultation for the following: Naturopathy Aromatherapy Homoeopathy Acupuncture Herbalism Chiropractic Traditional Chinese Medicine Osteopathy Remedial Massage Reflexology Shiatsu Iridology Myotherapy Bowen Therapy Dietetics Alexander Technique
Harmony also looks after you with cover for physiotherapy and speech, eye and occupational therapies. Australian Unity is committed to offering you the best preventive health care services, for a minimum investment.
Add some "Harmony" in your life, and save money - naturally!
Click Here to find out more
Fitness Questions?: Kerrie Blumson has your answers!

Q from Kate- How long do you think I need to wait before I can start exercising after the arrival of my first baby?
A. How long you should wait before resuming exercise after the birth of your baby is very much an individual thing and will depend on your current fitness level and your health after the birth. However, 6 weeks is generally recommended but, of course, your doctor is the best person to consult about this. I would also recommend that you consult professional exercise advice when you are ready to resume your exercise. Congratulations Kate and best wishes to you and your baby.
Q from Sally- Is jogging for 20 minutes a day enough? approx 4 times a week? And how long do you need to walk for and at what pace to burn fat?

A. Jogging for 20 mins. 4 times per week is fantastic. Well done! Our bodies adapt very quickly to exercise and so it is very important to try to add variety to your training so that your overall fitness continues to improve. Adding variety will also help you to stay mentally motivated.
You may like to consider some of the following variations to your running.
1. Aim to decrease the total time it takes you to run the distance you normally cover in 20 mins.
2. Aim to increase the total distance you run over 20 mins. i.e. Increase your running speed.
3. Try interval running over the 20 mins. E.g. jog 2 mins and then run at say ¾ sprint speed for 30 seconds, jog 2mins, ¾ sprint 30 seconds, jog 2 mins etc. You can change both the duration of intervals and intensity to suit your current fitness level.
4. Reverse the track that you normally run.
5. Include some hills in you run if you don't already.
6. Regularly replace at least one running session a week with an entirely different activity such a swimming, cycling, rock climbing, yoga, Pilates - anything that you will enjoy.
I would also recommend you include some simple strength exercises such as push -ups for the upper body and lunges or body weight squats for the lower body. These can be done after your run when you get your breathe back. Remember to finish with 5-10 mins. of stretching.
Your second question is a good one. Consider this example…Running can burn 2-3 times more calories than walking. So in reality, running burns more fat than walking. If you go for a walk for 30 mins. And burn 50% of your calories from fat but the walk only burns100 calories then you have burnt 50 calories of fat. However, if a 30 min. run may only use 40% calories from fat but running for 30 mins. can burn up to 300 calories or more. 40% of 300 equals 120 calories from fat, which is more than double the fat of walking with an extra 200 calories burnt! Also the harder you train the fitter you become and fit people are better fat burners! So keep running but remember variety.
Ask Kerrie a question by clicking here
Click here to visit Fernwood Womens Health Club -Toowong.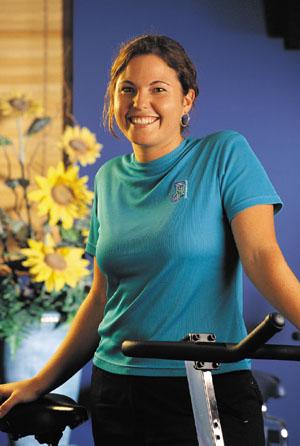 Health Buzz: The latest news on all things good for you!
Brought to you by www.mindandbody.com.au
A multi a day says the AMA
All adult Americans should take one multi-vitamin supplement each day to help prevent chronic illnesses, according to new evidence from the Journal of the American Medical Association (JAMA). A study published in JAMA in July 2002 revealed that despite ready access to healthy foods, Americans are not consuming enough fruit and vegetables to get the nutrients needed to prevent diseases such as cancer, heart disease and osteoporosis. The researchers say that as well as striving for a wholesome diet, to reduce the risk of illness, we should be supplementing with a multi-vitamin daily.
Calcium gives heart post-menopause
As well as helping to ward off osteoporosis, calcium may improve a woman's chances of avoiding heart disease. New Zealand researchers have shown that post-menopausal women who take calcium supplements can reduce their levels of harmful LDL cholesterol and improve beneficial HDL levels. In a study published in the American Journal of Medicine, the researchers said the increases in the HDL-LDL ratio were usually associated with a 20 to 30 decrease in the incidence of cardiovascular events, and were similar to results found with commonly used statin drugs.
Teach a child to fish…
…and he or she will probably outsmart us all, if preliminary results of a new UK trial are anything to go by. The trial, which involves children aged six to eleven being given supplements containing omega-3 and omega-6 fatty acids, is predicted to show big improvements in children with learning difficulties. Fish oils are a rich source of omega-3 fatty acids, which are essential to brain development and function in infants and children. Thirteen schools are participating in the six-month trial, and researchers have already seen improvements in reading skills, confidence and behaviour.
Warning on medicine mistakes
Drug mix-ups are putting 140,000 Australians in hospital each year according to a report from the federal government's Pharmaceutical Health and Rational use of Medicines committee (PHARM). Other estimates put inappropriate use of medicines as a greater threat to life than motor accidents. Incorrect prescribing, drug interactions, allergic reactions, confusing drug names and excessive doses are the main causes of problems. There have been calls for a review of drug safety standards at doctor, pharmacy and hospital levels, but patients too need to take an active role in their own medicine management and be sure to question their healthcare professional about any potential problems with any medicine they're taking.

Brought to you by www.mindandbody.com.au
Short and Sweet: Almond Shorties!



Ingredients:
60g Australian Butter

1/4 cup brown sugar

1 egg

100g ground almonds

1/2 cup self raising flour

1-2 drops almond essence

125g dark chocolate, melted

almond halves, for garnishing

Method:
Cream butter and sugar until light and fluffy. Gradually beat in the egg. Fold in almonds and flour. Add almond essence. Fill a piping bag with a large star nozzle, with mixture and pipe onto buttered oven trays. Bake at 180°C for 10-15 minutes. Allow to cool before decorating with melted chocolate and almond half.
Serves : 4 Carbohydrates : 5 g
Energy : 285 kJ Calcium : 16 mg
Protein : 1 g Iron : mg
Fat : 5 g

Laughter is the best medicine!

Three old ladies are sitting in a diner, chatting about various things. One lady says, "You know, I'm getting really forgetful. This morning, I was standing at the top of the stairs, and I couldn't remember whether I had just come up or was about to go down."
The second lady says, "You think that's bad? The other day, I was sitting on the edge of my bed and I couldn't remember whether I was going to sleep or had just woken up!"
The third lady smiles smugly, "Well, my memory is just as good as it's always been, knock on wood," she says as she raps on the table. Then with a startled look on her face, she asks, "Who's there?"

Quote of the month!

Chance is always powerful. Let your hook be always cast; in the pool where you least expect it, there will be a fish.
Ovid (43 BC - 18 AD)
6 PPS Hairwear Packs Giveaway!
Over the next 4 weeks we are giving away 6 great D Zine Hairwear packs thanks to PPS Hairwear. Don't forget that all subscribers to Naturally Happy are automatically included in all our giveaways- GOOD LUCK!
Click here for more details.
Surf Life Saving: Why you should support this great cause!

Volunteer surf lifesavers have been patrolling beaches in Queensland for more than 90 years. What began as fragmented groups of surfers saving lives of people in the unfamiliar environment of the ocean has grown into one of the nation's proudest and most effective organisations serving the community and keeping Queensland beaches safe. The first Queensland Surf Life Saving Club was founded at Coolangatta Beach on 21st February, 1909.
To find out about how you can support the Surf Life Saving click here


In the next issue of "Naturally Happy"
My Health Specials provides this information for your personal education and enrichment. Information provided should not be used for diagnosing or treating a health problem or disease. Nor should the information replace the advice of your health care practitioner. Always seek professional advice if suffering an illness.