New Year - Time for Detox: The Natural Way!

Christmas and New Year celebrations are over for another year - thank goodness! Perhaps you feel bloated, tired or as though your skin will 'break out' any minute. If so, now is the time to get back on the healthy wagon by undertaking a mini-detoxification.

Naturopath for The Natural Way, Sue Raward, says the key to getting your body back in optimum condition is to look after your liver.

"The liver is the second largest organ in the human body, after your skin," explains Mrs Raward, "so it's vital for keeping the body functioning effectively."

"Overindulgence can cause the liver to become overburdened with toxic wastes which can cause a range of problems such as poor digestion, bloating, nausea, weight gain, constipation and can worsen allergies. Brain function can also be affected so mood changes, depression and poor concentration are also common side effects of poor liver function."

"A detoxification program is a great way to get your body back on track for the challenges we all face in everyday life," says Ms Raward. "It allows you to cleanse the liver and counteract the effects of your blow-out!"

Sue says The Natural Way's detoxification program is easy and inexpensive and provides the support of fully trained consultants who can explain what is happening to your body throughout the process.

If you don't want to undertake a detoxification program, Sue says there are still a few steps you can undertake to get your body functioning better…
1. Drink eight glasses of water every day.
2. Cut out all sweets, lollies, chocolate and carbonated soft drinks for at least a week.
3. Eat at least two pieces of fruit per day.
4. Have 5 serves (approx ½ cup = 1 serve) of fresh vegetables daily.
5. Get at least eight (8) hours sleep a night because a healthy body needs adequate rest.
6. Exercise regularly. Exercise is not only invigorating but the large amount of fresh air you inhale while exercising helps to boost cell regeneration and repair.
7. Drink only decaffeinated coffee and herbal teas.
8. Eat organic foods wherever possible. Eating organic food helps to reduce the amount of toxins in your body.


To find out more about The Natural Way's proven, supervised detoxification program contact The Natural Way on 1300 NATWAY / 628929.
or visit www.thenaturalway.com.au
Serious Training, Serious Fun: with Kickbike!
Why I, like the Schick man, bought the company

I was given the opportunity to play around on the Kickbike, not just for a day, not even a week. But for 3 weeks and was asked to seriously check it out.

So I did some kilometres, 5km the first time and boy, did I feel it. I built up in 3 weeks to about 40kms, including hills, and felt pretty good. It was a lot of fun and I really enjoyed the downhills. This however wasn't the selling point.

My running at the time was average, regularly suffering from impact injuries, so I was running as fast as I thought I could for a 39 year old. At the start of the 3 weeks I dropped my running to 2 runs per week, a 5km on Wednesday and 10km on Thursday. In the 3rd week my run times improved and I felt better afterwards. This prompted me to look a lot more seriously. By 6 weeks I had improved my 10km run time by 4 minutes down to 43 minutes My PB at age 23 was 39 minutes.

I decided that there was something to the Kickbike and researched more. Designed for the Cross Country skiers, (the fittest sport in the world), they had been using them for about 9 years. That said heaps to me so I agreed to become the NZ sales Manager, and continued to use it for my own training.

At the age of 40 I set personal PB's for the 5km, 10km and half Marathon, all set in my early 20's, and I was still only running twice a week. My cycling also improved dramatically, and I was only doing that once a week, and my canoeing improved, and that was once a month.

As a result of training on the Kickbike, I had achieved greater core strength, and aerobic capacity, and was able to continue training because I wasn't suffering from impact injuries. So over 14 months I had become so impressed with Kickbike, that I bought the Australian business outright and moved to Brisbane in 2002.

Bruce Cook Kickbike Australia Visit www.kickbike.com.au or for more information or contact Bruce Cook on Ph 1300 730206, Mobile 0407 699884 or email bruce@kickbike.com.au

Health warning: Side effects include toned legs, pert buttocks and a sense of wellbeing. Please moderate usage.
INTRODUCTORY OFFER Receive A FREE personal training session* and a free 10 function Bike Computer with every Kickbike! (*Free training session only available in areas where a qualified Personal Trainer operates as a selling agent of Kickbike Australia.)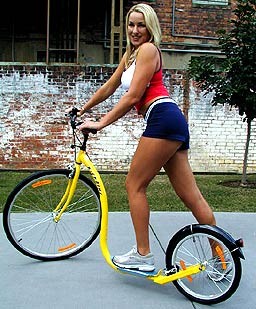 The Easy Way To Get Rid Of Unslightly Facial Veins:with the Medical Spa!
Women and men of all skin types are now making unsightly facial and leg veins a thing of the past. Medical Spa in Brisbane uses the medical grade, Coolglide Vantage Laser to safely treat tiny superficial face veins, superficial leg veins as well as unsightly Haemangiomas and Cherry Haemangiomas. No injections, very little pain!!!

With advanced technology and a longer wavelength, this medical Laser treats a broad range of vessels from tiny spider veins on the legs to broken capillaries on the face and nose very quickly, safely, and effectively. Patients with dark, light or tanned skin can experience outstanding results with minimal bruising or blistering.

Fully licensed by Qld Health, the Coolglide Vantage delivers pulses of light energy which cause the blood within the vein to coagulate, eventually destroying the vessel which is later reabsorbed by your body. Blood flow will then be redirected to veins deeper below your skin's surface, where it should be.

Often, patients find that one or two treatments are sufficient. However, the number of treatments necessary depends on the number, colour, and size of the vessels being treated. No local anaesthesia or pain medication is required. Following the treatment, the pain is minimal to nonexistent.

Most patients find that the majority of the treated veins show significant improvement within 2 to 6 weeks of a treatment - and in some cases, immediate, particularly on the smaller broken capillaries.

Call Terri Cross at Medical Spa Brisbane on (07) 3211 8100 for an obligation free appointment. Medical Spa: Level 1, 245 Albert St, Brisbane (Cnr Adelaide St, above Hardy Bros.)
SUMMER SPECIAL - Free consultation for Laser Hair removal with Class IV Medical Laser (All Laser therapists are registered and certified with Queensland Health and Radiation) + 30% off 1st Treatment for Brazillian/Bikini/Underarms. These specials are not valid with any other offers.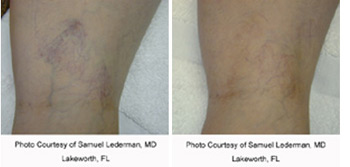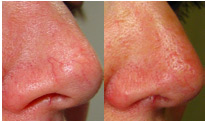 South East Qld Gym and Weight Loss Centres: Hundreds of Great Introductory Offers!
South East Qld has an array of great Health and Fitness Centres and Weight Management Centres ! Each centre has a greaty special to get you started!
To find out more information click here and pinpoint a centre in your local area!
Introductory Offers: Day Spas!
Check out these great offers from South East Qld's finest health and beauty businesses! - simply click the link and fill out the contact form,
Outshine (West End/Fortitude Valley)
Bring a friend for any pampering package, massage or facial and receive the 2nd appointment 1/2 price! ( Please fill out the contact form on the page)
Urban Retreat Massage Day Spa - Hawthorne/Paddington Receive a"Complimentary Ion Cleanse Detox Spa" with every Detox & Tone Salt Scrub.. ! ( Please fill out the contact form on the page)
The Vitality Zone(Mt Gravatt)
$50 massage between 8am-12pm Mon – Fri *conditions apply limited spaces available ( Please fill out the contact form on the page)
Time out for you - Ashgove
Beautiful Beings - Milton
Body Central - Teneriffe
Stephanies Natural Beauty & Day Spa - City and Bulimba
Nourishedmagazine.com.au: 18 Medical Lies Why I Abandonded Medicine!
by Shane Ellis
An insider reveals the sad truth about the pharmaceutical industry's hijack of modern medicine. Shane Ellis, the people's chemist, shares how he eschewed his hard earned place in the industry that he previously revered. That was until he saw first hand how greed can thwart true scientific investigation. MORE...

Brought to you by www.nourishedmagazine.com.au
Short and Sweet:Orange, Ricotta and Rosemary Cheesecake Flan!
Low Fat Christmas Pudding
Serves 8
Ingredients
100ml Australian cream 1/2 cup honey 2 tablespoons fresh orange juice 2 sprigs rosemary 500g Australian ricotta 200g Australian Greek style yogurt 3 eggs 2 teaspoons finely grated orange rind icing sugar and Australian Greek style yogurt, to serve Syrupy Oranges 1 cup caster sugar, extra 2 tablespoons honey 1 cup water 2 oranges, thinly sliced 3 sprigs rosemary, broken into clusters
Method
1. Bring cream, honey, orange juice and rosemary sprig to a gentle simmer for 2 minutes. Remove from heat and stand for 15 minutes, until cooled slightly. Remove rosemary sprigs. 2. Process cooled mixture with ricotta, yogurt, eggs and orange rind. Pour into a lined 24cm springform pan. Bake at 180°C for 50 minutes or until set. Allow to cool in oven. 3. For oranges, bring sugar, honey and water to a simmer, add oranges and rosemary clusters, gently simmer for 20 minutes. Allow the oranges to cool in the syrup. 4. Remove cheesecake from pan and slide on a serving platter. Top with oranges, rosemary clusters and some of the syrup. Serve with yogurt and a dusting of icing sugar.
Laughter is the best medicine!
When Jim walked into the office, he knew something was up. There was a message on his desk that the boss wanted to see him as soon as he arrived. The boss didn't look very happy when Jim reported to his office. The older man didn't say anything, he just pointed at the newspaper on his desk. It was opened to the sports page, and there was a picture of a smiling Jim, holding up the trophy for winning the local golf tournament the day before. "I just checked. You called in sick yesterday!" the boss said. "What if everybody just claimed to be sick and took off whenever they wanted to? What do you have to say for yourself?" There was a moment of silence in the big corner office, until Jim finally spoke up, "I was really surprised to win the tournament, sir. I have never played that well. Think of the score I could have had if I hadn't been sick!"
When a sound is heard a voice is spoken when a vision is seen a dream is open when a voice is spoken a mind is flowing when a dream is lived the heart is growing Written in 2007 by Allen Steble --- Australia
For a Good Cause: Why Support Seeing Eye Dogs Australia?
To enhance the mobility and independence of people who are blind or vision impaired throughout Australia by providing Seeing Eye Dogs, mobility training and rehabilitation services free of charge.
BACK ISSUES OF NATURALLY HAPPY
In the next issue of "Naturally Happy"
If this link doesn't work please email info@myhealthspecials.com.au
My Health Specials provides this information for your personal education and enrichment. Information provided should not be used for diagnosing or treating a health problem or disease. Nor should the information replace the advice of your health care practitioner. Always seek professional advice if suffering an illness. My Health Specials Pty Ltd and all parties involved in the conception, production, ongoing maintenance and operation of Naturally Happy accept no liability and no responsibility for any damage whatsoever arising from or in connection to your use or operation of the website or information contained in this e-magazine.