Eat Less, Exercise More, The Weight Loss Myth Exposed: by Narelle Stegehuis ND ANPA.

Despite your best efforts, you are gaining weight - especially around our waist and hips - dieting is just not working. So why is this happening? The answer lies in the intricate four links between hormonal balance and body fat.

First link - is between insulin metabolism and body fat. When you are insulin resistant your body converts calories into fat at a faster rate.
Second link is between stress and body fat. The body interprets prolonged stress as a famine, and thinks it should store every spare calorie as fat.
Third link is estrogen imbalance. When in excess, estrogen promotes the growth of estrogen sensitive tissues, leading to an increase in fat tissue.
Fourth link is the cravings created by high-carb diets. Because your body can't readily maintain optimal blood sugar and serotonin levels, you are compelled to have snacks and caffeine to make yourself feel better.

Does this sound like you? Need Help?

MassAttack - Winner "Australian Naturopathic Excellence Award 2006"

Narelle Stegehuis, CEO of MassAttack, is a practising naturopath specialising in the research and development of natural treatment programs for women with hormonal imbalances; which have contributed to such symptoms as weight gain, cravings, anxiety & mood swings.

To contact Narelle: Please visit www.massattack.com.au or call her clinic today for your free initial consultation on ph 1300 133 536.

Special offer - if you are one of the next 30 to join MassAttack you will receive Narelle's healthy recipe book free (please mention Naturally Happy newsletter).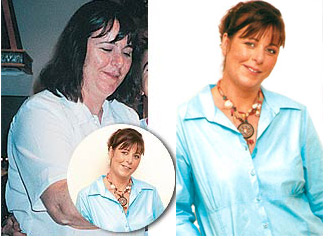 Who'd have thought that going green could be so pleasurable: with SYLK Natural Lubricant!
Who'd have thought that going 'green' could be so pleasurable?
There are now many excellent eco and ethical products on the market and Sylk Natural Personal Lubricant, in the most personal of categories, is one of them.

Sylk is made from the ultra-slippery fluid from inside the beautiful Kiwifruit vine in a gentle formulation designed to keep you healthy, increase sensitivity and enhance pleasure.

Sylk is further unique in that it doesn't contain petrochemicals like propylene Glycol and paraben preservatives, like so many other lubricants. No hormones, sugars, flavours, colours or other harsh chemical ingredients which could irritate or cause allergies. (And by the way, how clever is the Kiwi fruit vine - with health-giving fruit from one end and a hot little product to enhance pleasure from the other!)

Best thing is, Sylk has an exciting sexy feel that partners also love and it's ideal with condoms. In regard to the great feel of Sylk, many men have contacted the company to comment and probably one of the most succinct is the testimonial by Paul in Sydney that says:

"Sylk is a brilliant lubricant. All natural plus it feels just like a woman, which is probably why my wife loves it too".

If you'd like to 'try before you buy', simply log onto www.sylk.com.au and Geneva Marketing, the manufacturer and distributor, will post you a sample.

The company works closely with health professionals because of Sylk's benefit to women and especially recovering cancer patients. As well, because they believe in putting back into the community, Geneva Marketing donate - and have been doing so for over 5 years - 5 cents from the sale of every pack to Cancer Information and Support Services, a very worthy division of the Cancer Council. So when you buy this natural pleasure enhancer, you can feel extra good about doing your bit for others.

For more info or to buy online: www.sylk.com.au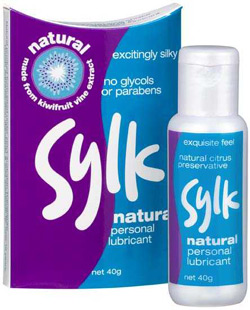 This Little Known Philosophy Holds the Key to Younger Skin :with Sunriders Organic Beauty and Skin Care!
What exactly is the philosophy of regeneration?

The ancient Chinese were first to recognise that we literally are what we put into our bodies, and therefore we have the ability to wind back the clock and 'regenerate' them. Early Chinese doctors were paid to keep their patients well using special combinations of plants and herbs, and if they became ill, payment ceased until they got their patients well again...at their own expense!

These early physicians believed that instead of taking medicine to help cure a health problem, people should use the proper herbs to prevent the body from ever getting sick, to stop the effects of ageing and to literally 'regenerate' organs, hair and skin.

The philosophy of regeneration says that:

1. The body has the ability to balance itself with proper nutrition
2. The body is designed to obtain its nutrition from whole foods
3. Each person must be willing to accept responsibility for their own health

'Regeneration' is the principle behind all of Sunrider's organic beauty and skin care products; products which help cells to regenerate or become stronger and stronger rather than degenerating and becoming weaker and weaker.

Did you know that every year 89% of our body is new?! The question is - will your body be stronger or weaker just one year from now?

That depends on what kind of products you use on your skin! Regeneration is truly the only way to successfully overcome ageing and weaknesses naturally, thereby gaining a new level of health and vitality never thought possible.

For stockiest of Sunrider's regenerative skin care click here
Purely Nails and Beauty - Cannon Hill
Work, dishes, traffic…Are you tired of the everyday, mundane things in life? Need an escape but don't have time to pack your bathing suit and cruise off for a relaxing break? Our beauty treatments will rejuvenate your body and refresh your spirit!

Located in Cannon Hill, we offer an extensive range of salon services, including skin rejuvenation, body pampering, waxing, tinting and nail treatments in a modern, relaxing environment.
Shop 16, Cannon Hill Kmart Plaza (corner of Wynnum & Creek Roads)
07-3217-9955

http://www.purelynailsandbeauty.com.au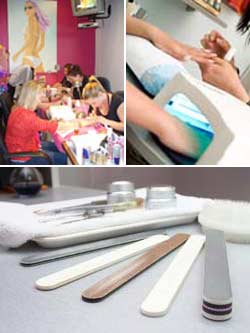 We are Literally Immersed in an Ocean of Energy:Check out Pranic Healing!
We are literally immersed in an ocean of energy; We are like 'living batteries' says Master Choa Kok Sui, founder & author of Pranic Healing. There is an abundant supply of energy (or prana) available for everyone. By using Pranic Healing you recharge your battery (body) & allowing you to maintain your vitality & robustness. Pranic Healing enables you to see & understand the flow of energy & automatically increase your energy level. How does it matter if you are energetically vital & robust or depleted & tired? The answer has several elements:

(1) "What you put out, you get back". Your energy vibration level is a magnet to all energies that are vibrating at the same frequency. This is the Law of Karma & the Law of Attraction in operation. You can change & rebuild yourself within minutes - it is easy and simple & it does take practice. :

(2) The physical body requires fuel (energy / prana) to stay healthy & function normally. Not enough fuel in the system causes the body to malfunction leading to disease & problems. The Pranic Healing remedy –recharge yourself & the body will rebalance & heal itself. :

In a Pranic Healing session, the practitioner, literally feels & removes the depleted, diseased, energy & replaces it with fresh prana, the effects are often immediate. To sustain change you may need 2-6 sessions. It is simple & there is no physical touch required. :

Come & experience Pranic Healing. Brush up the aura & chakras for the New Year, upgrade the energy body. I look forward to our session & sharing more of Master Choa Kok Sui's work of Pranic Healing. :

Fara Curlewis www.pranichealingcentre.com.au appointments 3254 3834 information 0418 217 193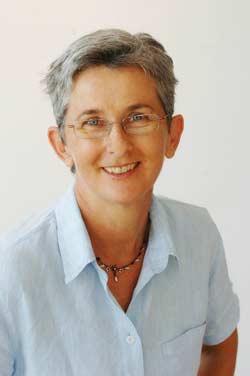 Introductory Offers: Xmas Gift Voucher Ideas!
HUNDREDS OF GREAT GIFT IDEAS at www.myhealthspecials.com.au
Lemon Myrtle Essentials - Nationwide
Time out for you - Ashgove
Beautiful Beings - Milton
Body Central - Teneriffe
Stephanies Natural Beauty & Day Spa - City and Bulimba
Check out these great offers from South East Qld's finest health and beauty businesses! - simply click the link and fill out the contact form,
Outshine (West End/Fortitude Valley)
Bring a friend for any pampering package, massage or facial and receive the 2nd appointment 1/2 price! ( Please fill out the contact form on the page)
Urban Retreat Massage Day Spa - Hawthorne/Paddington Receive a"Complimentary Ion Cleanse Detox Spa" with every Detox & Tone Salt Scrub.. ! ( Please fill out the contact form on the page)
The Vitality Zone(Mt Gravatt)
$50 massage between 8am-12pm Mon – Fri *conditions apply limited spaces available ( Please fill out the contact form on the page)
Nourishedmagazine.com.au: Fathers are Primary Parents!
by Patty Wipfler
Father's deserve Nourishment just as much as Mothers. Many are struggling on their own with issues only other men would understand. Patty Wipfler, with her usual compassion and insight lays out some simple steps for self Nourishment for Fathers. MORE...

Brought to you by www.nourishedmagazine.com.au
Short and Sweet:Low Fat Christmas Pudding!
Low Fat Christmas Pudding
Serves 8
Ingredients 1/3 cup sultanas 1/4 cup chopped raisins 2 tablespoons currants grated rind of 1 orange 1/2 cup grated carrot or apple 1/4 cup brandy 1/2 cup wholemeal flour 1 teaspoon ground cinnamon 1 teaspoon mixed spice 1/2 teaspoon nutmeg 60g Australian butter 1 1/2 slices wholemeal bread, crumbed 1 egg, lightly beaten 1/3 cup Australian skim or low fat milk 1 teaspoon vanilla essence 1 tablespoon brown sugar 1/2 teaspoon bicarbonate of soda 1 tablespoon hot water custard, for serving
Method 1. Soak dried fruit, orange rind and carrot in brandy overnight. 2. Combine flour and spices in a bowl. Rub butter into flour mixture, and add breadcrumbs. Add egg, milk, vanilla, brown sugar and soaked fruit mixture. Mix bicarbonate of soda and hot water together and mix it well into remaining ingredients. 3. Pour into a 8 cup buttered heatproof bowl, cover with buttered foil, secure with string and steam for 1 1/2 - 2 hours. Turn out and serve with custard. NOTE: This pudding is best made a week before serving, so that the flavours have time to mature. Reheat by steaming or boiling for 30-45 minutes until heated through. Do not store it again after you have reheated it.
Laughter is the best medicine!
Question: What do snowmen eat for breakfast? Answer: Snowflakes.
Question: What's red and white and gives presents to good little fish on Christmas? Answer: Sandy Claws.
Question: What do you get when you cross an archer with a gift-wrapper? Answer: Ribbon hood.
Question: Why does Santa have 3 gardens? Answer: So he can ho-ho-ho.
Question: What do you get when you cross a snowman with a vampire? Answer: Frostbite.
" In the words of a famous sports company, quite simply, JUST DO IT!"
For a Good Cause: Why Support the RSPCA QLD?
Other RSPCA Web Sites Click here to get free logos and ringtones. Click here to view animation. RSPCA Qld is a non-government, community-based charity dedicated to protecting the welfare of all animals - great and small. Approximately 40,000 animals depend on us every year and we depend on your support and donations to continue our life saving work
BACK ISSUES OF NATURALLY HAPPY
In the next issue of "Naturally Happy" - JANUARY 2008
GYM GUIDE!

PERSONAL TRAINING GUIDE!

WEIGHT MANAGEMENT GUIDE!

NATURAL HEALTH GUIDE!

Introductory Offers!

nourished.com.au!

Short and sweet!
If this link doesn't work please email info@myhealthspecials.com.au
My Health Specials provides this information for your personal education and enrichment. Information provided should not be used for diagnosing or treating a health problem or disease. Nor should the information replace the advice of your health care practitioner. Always seek professional advice if suffering an illness. My Health Specials Pty Ltd and all parties involved in the conception, production, ongoing maintenance and operation of Naturally Happy accept no liability and no responsibility for any damage whatsoever arising from or in connection to your use or operation of the website or information contained in this e-magazine.