How to Reduce Cellulite:with Cellular Health Solutions!

Cellulite affects approximately 90% of women and is due to hormonal changes that influence the way fat is stored and how fluid is retained in the subcutaneous layer directly under the skin. Over time fat and fluid increases, stretching the skin inconsistently and inhibiting normal circulation. The fat becomes harder to metabolise and toxins begin to build up instead of being flushed out naturally

Endermologie is a specialised treatment using the LPG Cellu M6 Keymodule that visibly reduces cellulite. Whilst wearing a full length body stocking, the suction and rollers work over the entire body, concentrating on problem areas. It works by exercising the skin and body's connective tissue. Its fitness for the skin!

Endermologie breaks down fibrosis around problem fat cells, stimulating efficient metabolism. Fluuid retention and toxin build up is effectively eliminated through a thorough lymphatic drainage, and collagen and elastin production is boosted generating a healthier rejuvenated skin tone. The results are so good, 100,000 Endermologie treatments are performed worldwide each week.

February Special

Until the end of February Cellular Health Solutions is offering a package of 15 Endermologie treatments for only $1200.00. Valued at $1800.00.

Introductory Offer

We are offering a special 3 treatment package for $180.00 for those who have not yet had the Endermologie Experience!
clickhere for details 07 55762400

Ask us about our secret weapon for flabby arms!
3/5 Park Avenue Burleigh Heads Gold Coast www.cellularhealthsolutions.com.au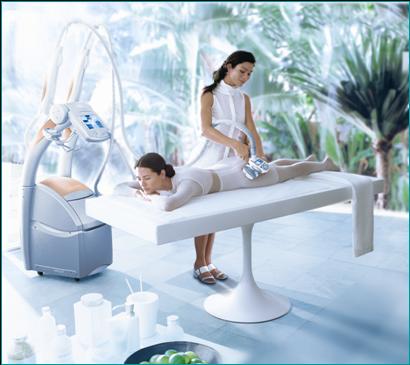 Health in a Natural Enviroment: with Rays Natural Health Retreat!
Do you have a health issue? Diabetes? Arthritis? High Blood Pressure? Cancer?
Have you ever thought that natural health could make a difference to your health? Well, at Rays Natural Health Retreat in Buderim on the Sunshine Coast, Queensland are doing just that. They're making a difference to people's health in a major way. So far in just over one year the retreat has had numerous ill people enter the premises and leave well.

Apart from helping people with all kinds of health problems, the competent staff at Rays have also guided many happy individuals to lose most or all of their weight in rapid time.

How do they do it?

"The human body wants good nutritious food. The body wants… I said, not the mind. The mind will have anything that you can throw into your mouth, and then some… That's the secret to health; clean out the rubbish, meaning eat well until the rubbish is gone. How can you tell that you have rubbish? Well grab a handful of fat from your tummy area, and if you have a handful then that's rubbish." States Ray Vozzo Naturopath and co-owner of the retreat. "If you don't have any fat and you're sick, then you could need an internal cleanse. The body will still be polluted. Where there's a sickness there's a cure! And in most cases it's easy." Ray continues.
Rays Natural Health Retreat is on seven acres of rainforest, each client will stay in there own cabin with ensuite and spa. Bookings need to be made now as spaces up to and including June are already filling.


INTRODUCTORY OFFER:
10% discount!(Booking out fast) clickhere for details
Rays Natural Heath Retreat Phone 07 5445 4050 Web www.rays.net.au
27 Earlybird Drive Buderim

Valentines Day: Give the Gift of Health and Beauty!
Natural Health Ideas - 86 categories to choose from!
Examples
Massage
Natural Skin Care
Health Appliances
Salt Crystal Lamps
Heath Retreats
Fitness Ideas- 30 categories to choose from!
Examples
Gym Memberships
Personal Training
Fitness Equipment
Yoga
Pilates
Beauty Ideas 23 categories to choose from!
Examples
Day spa Treatments
Spa accessories
Mens Spa
Laser Hair Removal
Pilates Studios :The Best in South East Qld!
What Is Pilates? Pilates is a cross between yoga, stretching and calisthenics.
Pilates: * Enhances body alignment * Strengthens the abs, back and stabilizer muscles * Stretches, strengthens and relaxes your body * When modified, is gentle enough for pregnant women, yet challenging enough for advanced exercisers. * Incorporates exercises that target your abs, back and legs, making your body strong and flexible.
While Pilates helps with flexibility, posture and strength, it isn't much of a cardio or strength training workout, so it should be an add-on to a regular routine.
Check out these great studios!
CITY
New Farm Holistic Health Centre
Pilates Head to Toe - Fortitude Valley
Northside/West
BTC Pilates & Yoga Studio- Kelvin Grove
Fit 4 Personal Training & Wellness Specialists - Bardon
Southside
Lifestyle Physical Therapies- Manly West
Fit 4 Personal Training & Wellness Specialists - Norman Park

Movements Fitness Centre -Buranda


Amazing Introductory Offers:For Natural Health, Fitness & Beauty Businesses!
Check out these great offers from South East Qld's finest health and beauty businesses! - simply click the link and fill out the contact form,
Clarks Lifestyle Centre(Tarragindi) Receive 1 free month when joining on a 3, 6 or 12 month membership! ( Please fill out the contact form on the page)
YES U CAN Olympian Coaching Your first consultation is FREE..! ( Please fill out the contact form on the page)
Green Apple Wellness Centre(Bald Hills):Mention "My Health Specials" and receive Either: Free Fat-Loss Value $121.00 Or: Two Free Hour Sessions Personal Training! ). Please fill out the contact form on the page)
Groves Natural Therapies (Woolloongabba)-20% off your first consultation!. Please fill out the contact form on the page)
Nourishedmagazine.com.au: Wisdom you can thrive on!
The new Nourished Magazine is powered by an online community of people like you, sharing experience, knowledge and passion for living well. Together we remember how to nourish our bodies, our children, our planet. clickhere

Brought to you by www.nourished.com.au
Short and Sweet: Pure Jersey Cream and Blackberries on Sweet Risotto Fritters!
Ingredients
1 tablespoon olive oil 3/4 cup arborio rice 1/4 cup dessert wine 1/4 teaspoon freshly grated nutmeg 1/4 teaspoons cinnamon 2 1/2 cups Australian milk 1/4 cup caster sugar 1/2 teaspoon vanilla extract zest of 1 orange 1 egg, lightly beaten 1/2 cup plain flour 1/2 teaspoon baking powder 2 large egg whites peanut oil, for cooking 300ml Australian Pure Jersey Cream 150g fresh or frozen blackberries, thawed icing sugar, for sprinkling

Method
1. Heat olive oil in a heavy based saucepan. Add rice and stir over medium heat until toasted. Add dessert wine and cook, stirring, until completely absorbed. Add the spices and 1/2 cup milk and cook, stirring continuously until the milk is absorbed. Continue adding milk, 1/2 cup at a time, until the risotto is creamy and rice is tender. 2. Stir in the sugar, vanilla, orange zest and transfer to a bowl. Cool slightly. Stir in the beaten egg, followed by the flour and baking powder. Beat the egg whites until stiff peaks form and fold into risotto mixture. 3. Heat 5cm of peanut oil in a heavy based saucepan. Drop rounded tablespoons of rice into the hot oil and brown all over, about 4 minutes. Drain on absorbent paper. Mixture will make 24 fritters. 4. Arrange warm sweet risotto fritters on serving plates. Top with a spoonful of Australian Pure Jersey Cream and two blackberries. Sprinkle with icing sugar and serve.
Brought to you by www.dairyaustralia.com.au
Laughter is the best medicine!
Cool Supermarket
A new supermarket opened near my house. It has an automatic water mister to keep the produce fresh. Just before it goes on, you hear the sound of distant thunder and the smell of fresh rain. When you approach the milk cases, you hear cows mooing and experience the scent of fresh hay. When you approach the egg case, you hear hens cluck and cackle, and the air is filled with the pleasing aroma of bacon and eggs frying. The veggie department features the smell of fresh buttered corn. I don't buy toilet paper there any more.

"The ability to deal with people is as purchasable a commodity as sugar or coffee and I will pay more for that ability than for any other under the sun.John D. Rockefeller, industrialist
For a Good Cause: Why support Volunteering Queensland?
Since its inception in 1982, Volunteering Queensland (VQ) has grown to become the State's peak body for volunteering. It represents the interests of volunteers and community organisations who utilise the services of volunteers. VQ is funded by government grants, community projects and services. VQ is an independent community based non-profit organisation operated largely by volunteers and a small team of paid staff.
BACK ISSUES OF NATURALLY HAPPY
In the next issue of "Naturally Happy"
If this link doesn't work please email info@myhealthspecials.com.au
My Health Specials provides this information for your personal education and enrichment. Information provided should not be used for diagnosing or treating a health problem or disease. Nor should the information replace the advice of your health care practitioner. Always seek professional advice if suffering an illness. My Health Specials Pty Ltd and all parties involved in the conception, production, ongoing maintenance and operation of Naturally Happy accept no liability and no responsibility for any damage whatsoever arising from or in connection to your use or operation of the website or information contained in this e-magazine.