The Wizards workshop:with Dennis Oosterman!



More Information:
Dennis is a Specialised Kinesiologist at The Wizard's Workshop and Quantum Leap Consulting. To change your energy vibration to attract more money and abundance into your life contact Dennis or call 0411227185 for your appointment NOW.
Incredible Rapid Detox: in Under 90 Seconds a Day!

This could be your Christmas detox dream!

Have you wanted to give your body a BIG detox, but haven't had the time to do everything required for traditional detox methods?

Traditional detoxes involved spending lots of time and money on special diets, or ingesting horrible powders and pills, and feeling nasty detox symptoms.

But lets' face it, we live in a toxic world! We are exposed to hundreds of chemicals in our food, toxins in the air we breathe - not to mention the dangerous heavy metals which accumulate in our body.

These toxins clog up the immune system, stop our organs from working effectively, strangle our cells, and lead to being tired, run down - and can even lead to deadly diseases.

If you are lacking energy, or suffering from disease, toxins could be a major part of the problem. For many people their bodies are clogged with heavy metals and other toxins which stops nutrients from getting through. So even if we supplement our diets with bioavailable nutritional supplements, we still aren't receiving the nutrients we need for a vibrant, healthy body.

There a REVOLUTIONARY new detox product which rapidly removes the heavy metals and toxins from the body with minimal side effects ! And is so easy to use! Just place some drops under your tongue 3 times a day - IT IS THAT SIMPLE! And I would like to show you how you can dramatically improve your health using it.

This could be the most important supplement you will ever take.

Imagine if you could quickly remove the toxins and heavy metals which are damaging your body every day… Toxins which have been linked to being run down, tired and even chronic disease…

Here are some other benefits:

" Removes harmful toxins and heavy metals from the body
" Incredibly potent antioxidant
" Creates a natural blood pH buffer which can increase alkalinity
" Increases energy levels and immune function
" Promotes a sense of well being, mental clarity, peace and happiness due to the removal of heavy metals
" improves liver function
" improves nutrient absorption

You deserve a clean, healthy, vibrant and energetic body!

For your full free report on 'How to detox heavy metals and harmful toxins in Less Than 90 seconds a day', email nhowie@natashahowie.com or call Natasha on 0412 095 235… And reclaim the natural health that you deserve!
Give the Gift of Health and Beauty: with a Gift Voucher!
Every week leading up to Xmas we will be featuring great businesses that have great Gift Ideas. Each business also has a great special that will add even more value to your gift.
To contact a business please click the business link and fill out the contact form on their web page.
Gift Vouchers also available!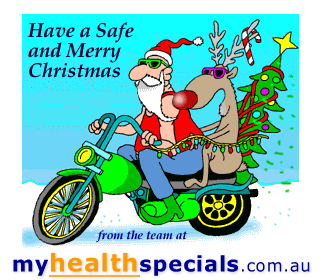 Day Spas/Beauty Therapy
Results Skin Centre-Bardon - 7 great offers!
spoil yourself package $220 deluxe facial, deluxe pedicare and deluxe manicure!
sheer body bliss package $190 body wrap, petite facial and full body massage.. perfect BLISS!
the corporate facial / the ultimate facial $185 includes:pevonia performance facial, ampoules and serums, eye treatment + hand treatment an eye brow wax, deep exfoliation of the face and décolletage * the ultimate facial for the busy woman deserving the best.
de stress package $130 stress relieving back massage and destressing spa body wrap
deluxe facial $115 stress relieving back massage and pure results facial
petite facial and eyelash tint $55
made for men package $175 deluxe pedicare, mens skin treatment, mens manicure or back massage ...perfect !
BONUS $20 off voucher for yourself to use in January or February 2007 when you purchase a voucher @results
Body Essence Day Spa for Men & Women- Kedron
2 hours of total luxury. Advanced anti-aging or performance facial combined with our powerful Elemis Massage. The ultimate skin therapy from the soles of your feet to the crown of your head. A wonderful Elemis Spring Refresher for the whole body Normally $195 Special Price $140
$275 worth of Beauty Treatments for just $169
Enjoy our Divine "Head to Toe Package"
Serum-Enriched Facial Cleanse, tone, exfoliate, serum for pressure point facial massage, mask, finishing off with luxury eye cream and hydrating moisturiser.
Relaxing Back Exfoliation & Massage Gentle back exfoliation with mineral salt scrub to polish away dead cells, complete with an aromatherapy back massage.
Mini Pedicare Soak, exfoliate, nail file, cuticle tidy, nail polish.
PLUS Absolutely FREE Professional Skin Analysis $45.00FREE Eyebrow Makeover (Wax & Tint) $31.00FREE Hand Exfoliation & Massage $25.00FREE Scalp Massage $20.00FREE Eyelash Tint $18.00FREE That's $275 worth of Beauty Treatments for just $169
30 minute ESTHEDERM facial for $30!
With every massage receive a free hydrotherapy tub valued at $45. OR with every 2 hour Hot Stone Therapy save $45 - $100 - and receive a return voucher for a sauna and a hydrothrapy tub treatment Valued at $65.00 OR 3 x 1 hr massages for only $150
Organic Childrens Clothing
Organic Babe & Kids
Purchase anything over $65 and receive a free pair of Aerial Sunglasses valued at $29.95.
Massage Therapy
5 massages for $250 and 10 for $500!
Ambience Body Therapies- Paddington
Receive your first 1hr massage for just $50.Then ask us how you can receive a massage from just $35 per week..
Skin Care
Hand made naturals - Highgate Hill
For all 'My Health Specials' customers a 'one of' offer of 10% discount when you purchase the 3 products mentioned together ie: Jojoba Cream Cleanser, Organic Rose Water, Rose Hip & Jojoba Face Cream. Total cost of the 3 would normally be $36.50 with 10% discount this brings it down to $32.85 plus receive a complimentary facial sponge(valued at $2.50) to use with the Jojoba Cream cleanser.
Vitale Natural Skin Care & Body Care-Paddington
Nancy Evans - Organic Rosehip Rose Royale Perfume 15ml $65.00 only $50.00 Remedica - Clair Visage 50ml $49.00 only $39.00
Laser Hair Removal

Lifestyle Laser Clinic- Springhill
Book a microdermabrasion for the regular rate of $88 and get a free Collagen hydrating mask worth $12 FREE!. Laser Hair Removal-
Mention Myhealthspecials when you book and get 5% off our prices. Book a friend as well and you each get a further 5% discount!
Health Appliances

Vitality 4 Life - National
10% off on any purchase!
Fitness Equipment
Elite Fitness - Massive Christmas sale in stores
The Danne Philosophy:with Star Skin Care!
The Danne philosophy, treatments and products have contributed to the change we see in todays field of Aesthetics.

A Botanical Scientist, Danne Montague King has over his 40 years in the industry, worked as an educator with many of the world's premier physicians and surgeons. His state-of the-art research has been spread worldwide in newspapers, journals and magazines and has won him international recognition.

The Danne Range consists of botanical formulations. Enzymes, fractionated oils from the plant world, amino acids and other proteins, are used to create a familiar environment to assist cellular growth and support within our skin.

At Star Skin Care we firmly support the concept of Danne. A Remove, Rebuild, Protect and Maintain System, an in-depth program designed to determine the cause and treat any skin condition.

The individual client can only benefit further from experiencing visible / infrared light before, during or after treatment (depending on the condition). It is important to also note that the Protect and Maintain steps of such a comprehensive program will lengthen the life of the skin in the fight against environmental stress and an inadequate diet.

An investment into your Home Prescriptive Range of Danne will lessen the amount of appointment time required to treat a condition. It would only make sense to care for newly treated skin than to apply harsh products that will only aggravate a condition we are trying to overcome.
INTRODUCTORY OFFER

Invest in a Danne Transdermal Nutritional Facial and receive 24 minutes of Bioptron Regenerative Light Therapy for free! value @ $ 90 normally $ 200 valid 31 Jan 2007 or click here to contact via email or call (07) 3216 1790 www.starskincare.com.au
Located in James Street Fortiude Valley/New Farm

Amazing Introductory Offers:For Natural Health, Fitness & Beauty Businesses!
Check out these great offers from South East Qld's finest health and beauty businesses! - simply click the link and fill out the contact form,
Total Bliss ( Buranda)FREE Indian head,neck and shoulder massage (worth $45.00) with a total bliss ultimate facial!*( Please fill out the contact form on the page)
Nirvana Rejuvenation Spa & Hair Salon (Lutwyche):Lavandou Facial Package Normally $150 Only $99 1 hour Lavandou Facial plus Professional Skin Assessment Free Gentle Scalp Massage Free Pevonia Shower Gel 125ml Free Pevonia Hand Gel 125ml Free ( mention myhealthspecials). ( Please fill out the contact form on the page)
Curves- Mitchelton/Keperra/Lutwyche-50% off your joining fee (when joining for a 12-month membership)PLUS Join now & get the rest of the year free. (Join any time between now & the 31st of Dec and pay no membership fees til January 1 2007) Please fill out the contact form on the page)
The Skin Management centre (Brisbane City) Complimentary Brow wax with your first consultation ( Please fill out the contact form on the page)
ZEST Health Clubs Win a trip to vietnam for 2!
Nourished.com.au:Climate Friendly Christmas Gifts!
Climate Friendly Christmas Gifts By Joanne Hay
For those who have it all. Give the gift of a clean atmosphere. You can save the planet 1 tonne of greenhouse gases (the average amount used by one Australian each month) by buying your friends a Carbon Credit for $21.15. (more…)

Brought to you by www.nourished.com.au
Short and Sweet: Mozzarella Spring Rolls with Sweet Chilli Sauce!
Ingredients
250g block Australian Mozzarella Cheese 10 sheets spring roll pastry, thawed 2 1/2 tablespoons sweet chilli sauce 1 small bunch fresh coriander 1 egg, lightly beaten vegetable oil, for deep frying sweet chilli sauce, extra, to serve
Method
1. Cut the Mozzarella block into 10 slices and cut each slice into 4 strips. 2. Cut each pastry sheet into four squares. Place a strip of cheese 2cm in from the corner of the pastry. Top with 1/4 teaspoon sweet chilli sauce, 2 coriander leaves, moisten edges with egg and roll up as for a spring roll. 3. Just prior to serving, heat oil and deep fry spring rolls, until golden brown. Drain on absorbent paper. Serve immediately with extra sweet chilli dipping sauce.
Brought to you by www.dairyaustralia.com.au
Laughter is the best medicine!
Q:What did the ghost eat at his birthday party? A:I scream
Q: What's red and goes up and down? A: A tomato in an elevator.
Q: What did one tube of glue say to the other tube of glue? A: We have to stick together.
Q: What do you say when you meet a two-headed monster? A: Hello, hello.
Q: What do you call a sleeping bull? A: A bulldoser.

If someday they say of me that in my work I have contributed something to the welfare and happiness of my fellow man, I shall be satisfied – George Westinghouse, inventor, manufacturer
For a Good Cause: Why support The Royal Blind Society?
Sight loss is one of the most common causes of disability in Australia, affecting one in 60 Australians. It is estimated that almost 300,000 people across Australia are blind or vision impaired. For Australians older than 75, the incidence of blindness or severe vision impairment is closer to one in six, owing to eye conditions related to aging.
BACK ISSUES OF NATURALLY HAPPY
In the next issue of "Naturally Happy"
Gym Guide!

Personal Training Guide!

Kick start 07!!

Weight Management guide

Introductory Offers!

nourished.com.au!

Short and sweet!
If this link doesn't work please email info@myhealthspecials.com.au
My Health Specials provides this information for your personal education and enrichment. Information provided should not be used for diagnosing or treating a health problem or disease. Nor should the information replace the advice of your health care practitioner. Always seek professional advice if suffering an illness. My Health Specials Pty Ltd and all parties involved in the conception, production, ongoing maintenance and operation of Naturally Happy accept no liability and no responsibility for any damage whatsoever arising from or in connection to your use or operation of the website or information contained in this e-magazine.